Merrifield at Dunn Loring Station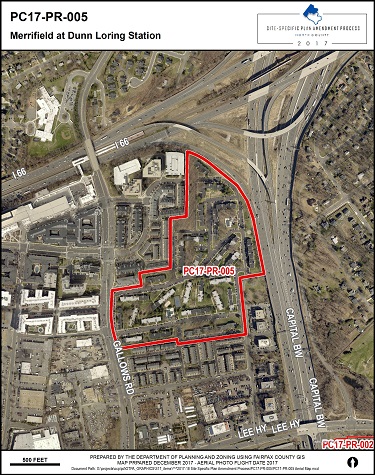 Nominator's Name:
David R. Gill
Area:
I
Supervisor District:
Providence
Planning District and Special Area: 
Merrifield Suburban Center, Sub-Unit B2
Tax Map Parcel #:
49-2((1))37, 39, 40, 48, 53
Address/General Location: 
8130 Prescott Drive, 2740 Hartland Road, 2700 Pleasantdale Road, 2701 Livingstone Lane, 8020 Harte Place
Acreage:
38.24 acres
Adopted Plan Recommendation:
Residential use at 16-20 du/ac. Redevelopment option for residential use at 30-40 du/ac with retail and service uses.
Proposed Change:
Option for residential mixed-use up to 1.9 FAR with office, hotel, and retail.
Community Screening
Preliminary Staff Recommendation: 
PC17-PR-005 is not recommended to be added to the 2018 Comprehensive Plan Amendment Work Program. The proposed redevelopment option would effectively expand the core area of the TSA with an intensity that exceeds the planned intensity closest to the station. This would work against the established land use pattern in the suburban center and an effective taper to adjacent non-core areas.  The adopted Plan remains an appropriate level of development.
Task Force Meeting:
April 10, 2018 at 7:00 p.m.
Providence Community Center
3001 Vaden Dr., Fairfax, VA 22301
Task Force Recommendation:
Include a modification of the original nomination on the Plan Amendment Work Program. Amend to reduce the proposed density to 1.2 FAR.
Planning Commission Public Hearing: 
Thursday, June 21, 2018 at 7:30 p.m.
Board Auditorium
Fairfax County Government Center
12000 Government Center Parkway, Fairfax, VA 22035
Decision Only - Thursday, June 28, 2018 at 7:30 p.m.
Planning Commission Recommendation: 
Planning Commission supports Staff Recommendation
Board of Supervisors Action Item Meeting:  
Tuesday, July 31, 2018 at 10:10 a.m.
Board of Supervisors Decision: 
Board supports Planning Commission recommendation and does not authorize 2017 North County Site-Specific Plan Amendment with adoption of 2018 Comprehensive Plan Amendment Work Program.
Related Documents
Preliminary Staff Summary Report
Merrifield at Dunn Loring Malkin Nomination Presentation
SSPA Task Force Report for Merrifield at Dunn Loring Station
Questions can be
emailed
or directed to Aaron Klibaner at (703) 324-1232