2817 & 2832 Dorr Avenue
**On May 30, 2018, the nominator of PC17-PR-004 requested that it be withdrawn from the Site-Specific Plan Amendment process. County staff and the task force will not consider this nomination for further review.**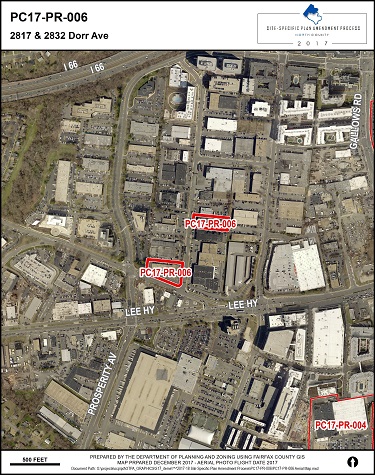 Nominator's Name:
David R. Gill
Area:
I
Supervisor District:
Providence
Planning District and Special Area:
Merrifield Suburban Center, Sub-Unit C7
Tax Map Parcel #:
49-1((13))1, 29
Address/General Location:
2817, 2832 Dorr Avenue
Acreage:
2.53 acres
Adopted Plan Recommendation:
Warehouse and industrial uses at current intensities.
Proposed Change:
Mixed-use or residential up to 1.35 FAR, and a height increase to 135 feet.
Community Screening
Preliminary Staff Recommendation: 
PC17-PR-006 is not recommended to be scheduled for the 2018 Comprehensive Plan Amendment Work Program. Introducing mixed-use or residential use onto the two non-contiguous parcels would not be compatible with the sub-unit's industrial character and would disrupt the established land use pattern for the area. Further, replanning parcels individually would be contrary to the area-wide policy for logical redevelopment and not result in the facilities or amenities that would establish a successful residential environment. The planned industrial uses also serve an important purpose to the area.
Task Force Meeting:
April 10, 2018 at 7:00 p.m.
Providence Community Center
3001 Vaden Dr., Fairfax, VA 22301
Task Force Recommendation:
Do not include in Plan Amendment Work Program.
Planning Commission Public Hearing: 
Not Applicable
Planning Commission Recommendation: 
Not Applicable
Board of Supervisors Action Item Meeting:  
Not Applicable
Board of Supervisors Decision: 
Not Applicable
Related Documents
Nomination (updated 1/3/2018)
Preliminary Staff Summary Report
Dorr Ave Venture Association Nomination Presentation
SSPA Task Force Report for Dorr Ave
Questions can be
emailed
or directed to Cedrick Suzuki at (703) 324-2771