Sully Station Shopping Center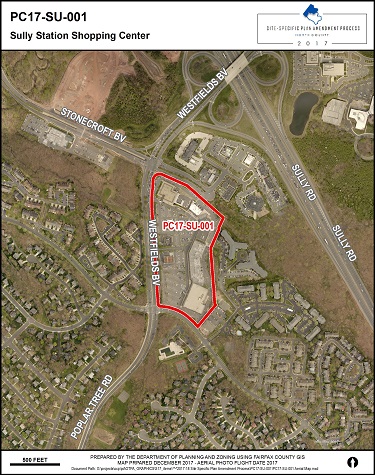 Nominator's Name:
David R. Gill
Area:
III
Supervisor District:
Sully
Planning District and Special Area:
Bull Run
Tax Map Parcel #:
44-3((7))B2, B3
Address/General Location: 
5001, 5035 Westfields Boulevard
Acreage:  
17.43 acres
Adopted Plan Recommendation: 
Retail use up to 0.25 FAR.
Proposed Change: 
Incorporate into the Dulles Suburban Center, and allow option for mixed use of up to 0.75 FAR that may include retail, office, hotel, assisted living, and private recreation.
Community Screening:
Preliminary Staff Recommendation:
PC17-SU-001 is recommended to be added to the 2018 Comprehensive Plan Amendment Work Program.
Task Force Meeting:
May 9, 2018, 7:00 p.m.
Sully District Government Center
4900 Stonecroft Blvd. Chantilly, VA 20151
Task Force Recommendation:
Include nomination on Plan Amendment Work Program as proposed.
Planning Commission Public Hearing: 
Thursday, June 21, 2018 at 7:30 p.m.
Board Auditorium
Fairfax County Government Center
12000 Government Center Parkway, Fairfax, VA 22035
Decision Only - Thursday, June 28, 2018 at 7:30 p.m.
Planning Commission Recommendation: 
Planning Commission supports Staff Recommendation
Board of Supervisors Action Item Meeting:
Tuesday, July 31, 2018 at 10:10 a.m.
Board of Supervisors Decision:
Board supports Planning Commission Recommendation and authorizes 2017 Site-Specific Plan Amendment with adoption of 2018 Comprehensive Plan Amendment Work Program.
Related Documents
Preliminary Staff Summary Report
SSPA Task Force Report for Sully Station Shopping Center
Sully Station Nomination Presentation
SSPA Plan Amendment 2018-III-1BR Page
Questions can be
emailed
or directed to Roger Dindyal at (703) 324-1382