Terminal Road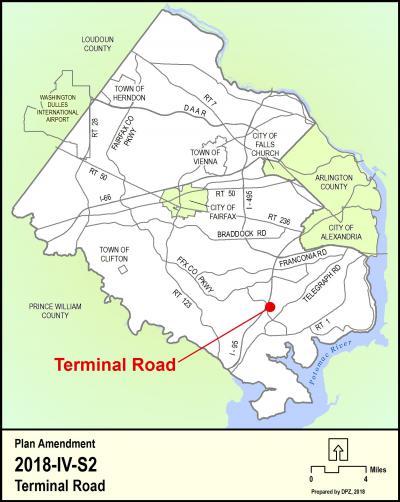 2016 Proffer Reform Bill - Non Exempt Area
Tax Map Parcel:
99-1 ((1)) 5E
Supervisor District:
Mount Vernon
Planning District:
Springfield
On July 31, 2018 the Board of Supervisors (Board) authorized the consideration of a Comprehensive Plan amendment for Terminal Road (Tax Map Parcel 99-1((1))5E) in the Springfield Planning District, Mount Vernon Supervisor District.
The adopted Plan for this area recommends industrial uses up to an intensity of .35 floor area ratio (FAR).  The Board requested that staff consider a recommendation that would support development of hotel, restaurant and self-storage uses on the property up to .70 FAR and evaluate access options from Loisdale Road, Newington Road and Terminal Road as well as the adopted transportation plan recommendations for the Loisdale Road and Newington Road intersection. The Board also directed staff to review the proposed Plan amendment concurrently with the review of a Special Exception application for the property, which has been submitted to the Zoning Evaluation Division and given a temporary identification number of SE 2018-0216.
Click on the map (above) for a detailed enlargement of the area. 
Related Documents