Fairfax County needs 2,100 election officers for the March 3 Democratic presidential primary election.
Election officers must be registered to vote in Virginia.
Fairfax County is the largest voting jurisdiction in Virginia with 243 precincts. It takes thousands of enthusiastic and trained election officers to ensure that we have efficient and well-run elections. Compensation begins at $175, although officers also may volunteer their time.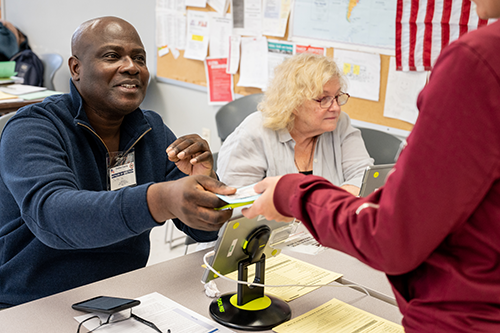 The Office of Elections is also seeking bilingual officers who speak Korean or Vietnamese. Bilingual speakers are especially needed in:
Annandale
Centreville
Falls Church.
On Election Day, officers will:
Set up voting equipment.
Check photo IDs and check names on the electronic poll book.
Provide assistance and instructions for using the voting machines.
Tabulate the results at the close of the polls.
For more information about becoming an election officer, visit the Fairfax County Office of Elections webpage, or call the office at 703-324-4735, TTY 711.
#  #  #