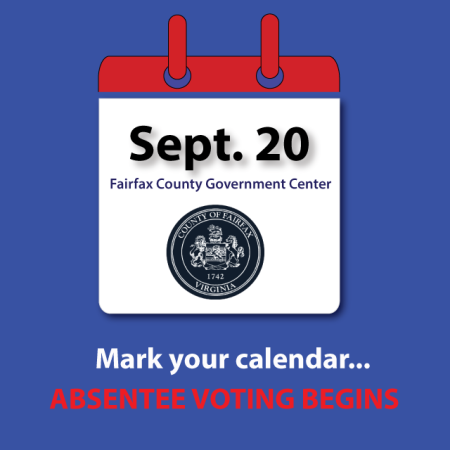 Absentee voting begins on Friday, Sept. 20, 2019, for the general election in November, andvoters can absentee vote in person at the Fairfax County Government Center in Conference Rooms 2/3 starting at 8 a.m.
In-Person Absentee Voting Locations
Until Oct. 17, the Fairfax County Government Center will be the only location for in-person absentee voting. Voting will be available during these hours Mondays through Saturdays. However, in-person absentee voting will not be available on Monday, Oct. 14, due to the Columbus Day holiday.
An additional nine satellite absentee voting locations will open on Thursday, Oct. 17, and these locations will be open on weekdays from 3 to 7 p.m. and Saturdays from 9 a.m. to 5 p.m. All locations will be closed on Sundays.
Satellite Locations Starting Oct. 17:
The last day to absentee vote in person will be Saturday, Nov. 2, at 5 p.m.
Absentee Voting Requirements
In Virginia, voters must have a reason to absentee vote, and there are 20 valid reasons, including working and commuting for 11 or more hours on Election Day. Check the list provided by the Virginia Department of Elections to see if you are eligible.
Check Your Registration
Voters should confirm they are registered to vote by checking the Virginia Department of Elections website. To vote in the Nov. 5 general election, the last day to register or update your information is Oct. 15.
What's on the Ballot?
For the Tuesday, Nov. 5, general election, the following offices are on the ballot:
Fairfax County Board of Supervisors
Fairfax County School Board
Fairfax County Sheriff
Fairfax Commonwealth's Attorney
Virginia State Senate
Virginia House of Delegate
Northern Virginia Soil and Water Conservation Directors
Still Have Questions?
For more information, contact the Fairfax County Office of Elections at 703-222-0776, TTY 711.
#  #  #