On June 29, an underused space at 7200 Columbia Pike will become Annandale's first "pop-up" park, featuring arts, fitness and family friendly activities.
The 1,200-square-foot space is part of the county-owned property that's currently leased to a local nonprofit. The space will be transformed from a bare concrete patch to a temporary community gathering spot with tables and chairs, game tables, an outdoor piano painted by artists and landscaping.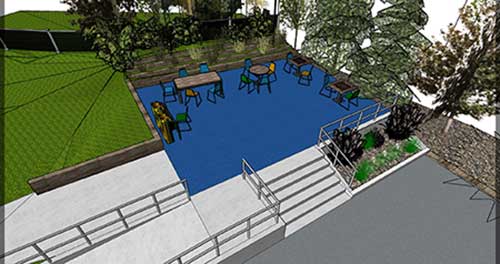 To help prepare the civic space for its grand opening, volunteers are needed for a clean-up day on Saturday, June 15, from 10 a.m. to 1 p.m. To volunteer, register by Friday, June 14.
The space and adjacent parking lot will host flexible, pop-up programming about once a month from the park's opening day June 29 until Oct. 5, 2019:
June 29, Nature Day: A family-friendly event featuring live native animals from Hidden Oaks Nature Center, gardening insights from Green Spring Gardens, golf tips and tricks by Pinecrest Golf Course, a fun scavenger hunt and a unique bead for the day when you start your Mason District Beadin' Path at the pop-up park.
July 27, Arts Day: Arts-themed family-friendly programming activities such as painting, chalking, etc. More details forthcoming.
Aug. 24, Fitness and Fun Day: Physical fitness, play and general wellness-themed family-friendly programming activities. More details forthcoming.
Oct. 5, Taste of Annandale Community Day: This is the park's last planned event and more details will be provided in the future about the family-friendly programming activities.
Advance registration is encouraged, but not required, for the programming days.  Walk-ups the day of the event are also welcome.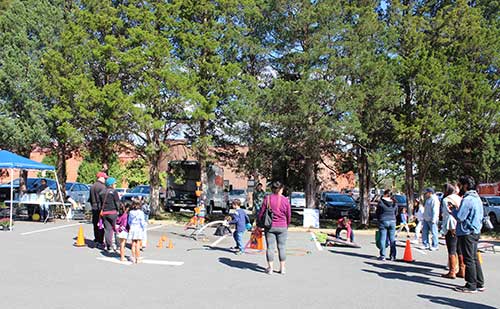 This temporary civic and park space is envisioned to eventually be transformed into a permanent, more than half-acre park. The pop-up park creatively uses the existing space to push forward the longer-term vision to make Annandale a more walkable community with a network of public gathering spaces and smaller, urban parks.
"What we're trying to do is contribute to the local vibrancy of Annandale and further revitalization," said Laura Baker, program manager with the Fairfax County Office of Community Revitalization. "We think having a space like this can really help bring about some near-term, tangible change for people and can hopefully propel future change."
The programming ideas for the pop-up park, along with the design for a future, permanent park, resulted from public input. The county began a planning process last spring to get feedback from Annandale residents.
For more information, visit the pop-up park's webpage or contact Laura Baker, Fairfax County Office of Community Revitalization, 703-324-9300, TTY 711.
#  #  #