News Highlights
Capital Bikeshare is one way Fairfax County is working to boost and diversify its economy.
Bikeshare and bike infrastructure produces tangible economic benefits: it increases property values, retail sales and tourism.
As bikeshare launches today in Reston and Tysons, Fairfax County officials point to the project as one way they are working to boost the economy.
The system gives people new ways to get around, helping create a sustainable, urban landscape. It also helps to spurs economic development for this same reason.
Fairfax County's Strategic Plan to Facilitate Economic Success calls for creating dense, mixed use communities with many transportation options. Capital Bikeshare helps to accomplish this goal.
Not only do bikeshares attract talented people who help to fuel an innovation economy, but also they produce tangible economic benefits.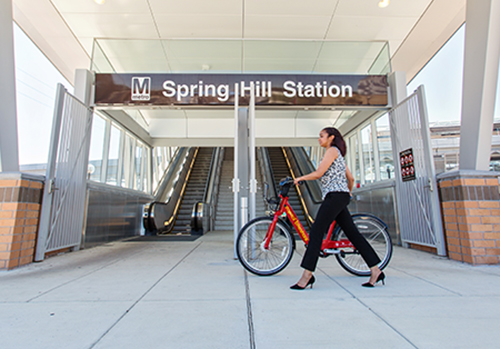 Biking is Increasingly How People Want to Get Around
Increasingly, everyone from millennials to boomers want to ditch their cars and get around on two wheels instead of four. This means that offering bikeshare is one way to draw—and keep—talented professionals in the county, officials say.
Millennials, who now make up the largest living generation in the country, want to live in urban areas that offer transportation options besides driving. The American Planning Association conducted a national poll two years ago that found that 50 percent want to live in an urban area, and 43 percent said that having an alternatives to the car is very important.
Bikeshare use is also rising, according to the APA's survey. It found that 14 percent traveled by bike at least once a month, and 26 percent say they want this to be their primary travel method in the future.
In the DC region, bikeshare is an important amenity to millennials. American University's Kogod School released a study this year that looked at what's important to millennials living in the region. More than 40 percent said that being able to bike, walk or take transit was key.
Bicycling's Economic Benefits
Bike facilities, like bikeshares and trails, produce real economic results. There's a growing body of research that shows how bike infrastructure increases property values, retail sales and tourism.
Increases property values: There are case studies across the country that show how bike trails and facilities boost property values. In Indianapolis, properties within a block from its biking trail increased by 148 percent—or $1.01 billion—over six years. The University of Minnesota also found that properties increase in value the closer they are to off-street bike facilities. In the Minneapolis/St. Paul area, median-priced homes increased in value by $510 for every 1,312 feet closer they are to bike facilities.
Boosts retail sales: A 2014 Capital Bikeshare member survey found that its riders make more trips to restaurants and stores than they normally would without bikeshare. In addition, an academic study found that 23 percent of Capital Bikeshare riders spent more money because they used the system.  Similar effects have been documented elsewhere. In Salt Lake City, retailers' sales shot up 8.8 percent on a major commercial street where bike lanes were installed.
Improves Tourism Spending: Bike infrastructure helps to maximize tourism while minimizing traffic congestion. Bicyclists produce greater yields in tourism dollars, studies have found. In Quebec, bike tourists spend an average of $152 dollars more per day—or 6 percent greater—than other types of tourists. This finding came from a 2014 study by the University of Quebec at Montreal. In North Carolina, the state invested $6.7 million for bike lanes in the Outer Banks, yielding an annual nine-to-one return on investment because of increased bicycle tourism.
 ###