A new regional startup census finds that Fairfax County leads with the most of these entrepreneurial businesses in Northern Virginia.
Fairfax is home to 12.5 percent of startups in the D.C. region, according to Fosterly's 2017 Startup Census. This is not quite double the number of startups compared to Alexandria, the jurisdiction with the second highest percentage in Northern Virginia.
Last year, startups in the county also raised $158 million in venture capital funds, based on census findings.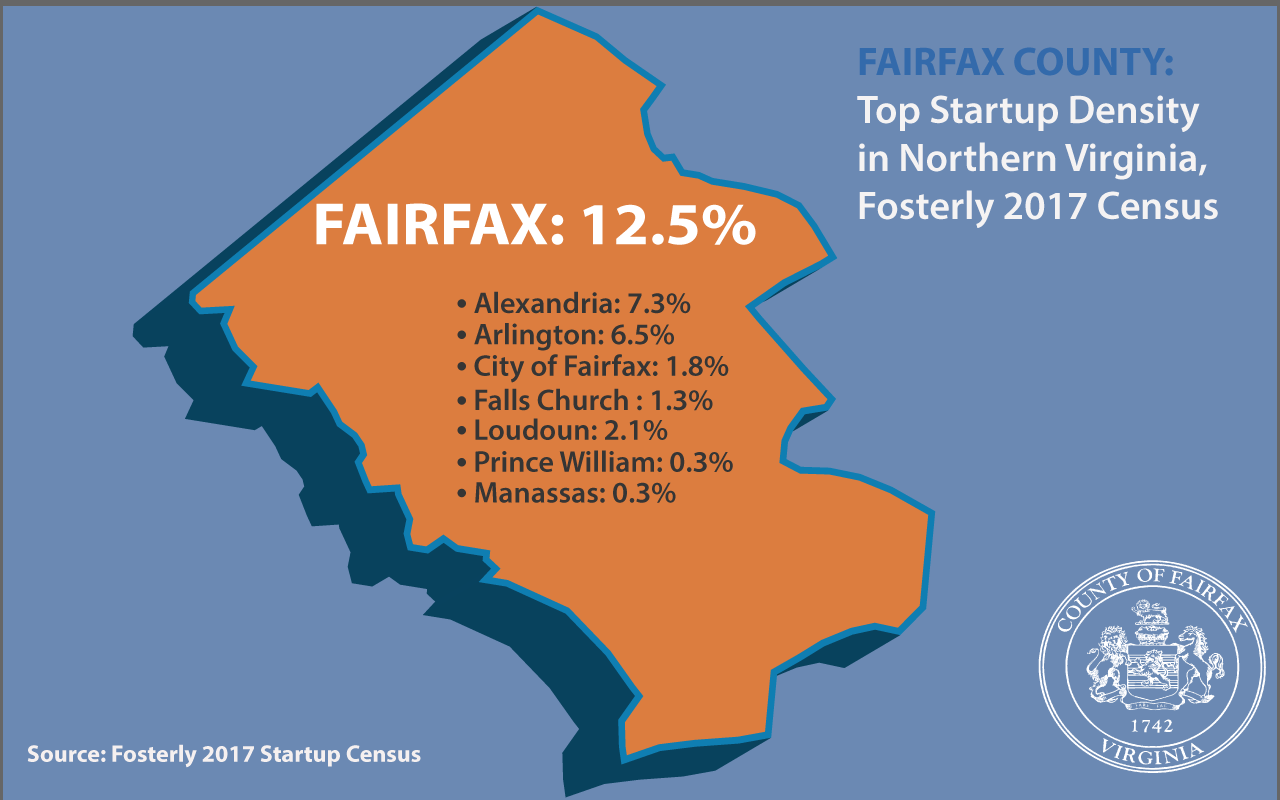 Fairfax County sponsored this independent study for a second year in a row, along with corporations, universities, tech firms, accelerators, incubators, and local governments.
Fairfax officials said they backed this count because it supports the county's and region's efforts to grow the innovation economy.
The census offers granular, localized data and insights about startups. This information is intended to help the ecosystem's players make investments and policies to expand this economic sector.
The census is one way that Fairfax has been trying to knit together the different parts of the ecosystem, said Eta Davis, Fairfax County's economic initiatives coordinator. Local government can play an important role as a convener.
Fairfax County is trying to foster more startups and entrepreneurship as key strategy in its plan to grow and diversify the economy. This is vital because startups drive job growth and innovation.
They employ three percent of the nation's workers every year—yet they account for 20 percent of net jobs created. This finding came from U.S. Census Bureau and University of Maryland economists who examined job growth over a 29-year period.
In 2015, startups created 2.5 million new jobs nationwide, according to the Census Bureau's latest numbers. Firms that were less than six years old accounted for 27 percent of job creation that same year.
Startups are also critical because they help move the region's economy away from its reliance on federal spending.
In total, startups generated only 11 percent of their revenue from the public sector, Fosterly's census found. Private sector spending made up 89 percent of revenues.
While the region is known for its many IT and software companies, the census indicated a growing segment of non-tech startups. Food and beverage companies made 4.9 percent of startups counted while health, wellness and fitness companies comprised 4 percent.
Fosterly's numbers also point to a possible reason for optimism in the persistent gender gap in the tech industry. Women founded 29 percent of the D.C. region's startups. This is significantly higher than the 16 percent nationwide, according to Crunchbase's 2017 numbers.
In Fairfax County, women own 36 percent of all companies, the highest figure in the state.
Fosterly's is a community of entrepreneurs, creators, creatives, and collaborators, and it works to advance the interests of the region's innovation ecosystem.
# # #