Streetlights that act like Fitbits, collecting and reporting data on air quality, parking spaces or pedestrian and vehicle traffic. Traffic lights that adjust their timing based on real-time, road conditions to keep cars moving.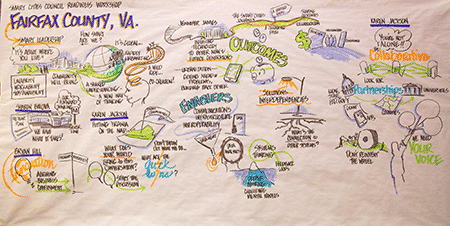 These aren't science fiction technologies – they're things that smart cities around the world are putting to use today.
To advance its ongoing efforts to use innovative tech, data and analytics to improve its services, Fairfax County held a workshop with the Smart Cities Council on March 19.
"Fairfax County was so pleased to host the Smart Cities Readiness Workshop," said Fairfax County Chairman Sharon Bulova. "We are excited about opportunities to further harness technology to improve health, increase connectivity and assure an awesome quality of life for our residents."
The event brought together more than 200 experts from county agencies, public schools, utilities, regional transportation agencies, universities and nonprofits. The effort aimed to help the county begin drawing a conceptual roadmap to becoming a smart county.
"Now what Fairfax County has already shown is that it's a winner," said Philip Bane, managing director of the Smart Cities Council. "It has champions. It has leadership that is interested in making this transformation."
Fairfax is already further ahead of other communities in North America, according to Bane.
The council helps governments around the world, and it offers training, insights and best practices collected from its global activities.
Workshop Focus
At the county's workshop, the council convened some of its experts to offer case studies on what others are doing across the globe, and participants collaborated to sketch out ideas and actions that the county can implement.
The workshop concentrated on three areas:
Health
Transportation
Infrastructure.
The focus on health looked at the county and public school's existing efforts to combat childhood obesity. One-third of county kindergartners are overweight or obese, and the statistics are even higher among African American and Hispanic children, among the worst in the nation.
"Some of the things we're thinking about are data analytics," said Eta Davis, economic initiatives coordinator for Fairfax county. "How can we use this amazing power of data to help us focus our efforts in fighting obesity."
Workshop attendees also considered how to improve transportation.
"We're also thinking about the mobility ecosystem," Davis said. "How can we use the various technologies available to address traffic congestion issues."
Northern Virginia faces three major transportation issues: congestion, safety and mobility, that is providing new ways to get around including as people age.
The third focus area was infrastructure. There are many possible smart technologies that could be applied.
The county, for example, is looking at pilot with Dominion to install sensor on streetlights to collect data.
Technology could also make operations more efficient when it comes to monitoring and maintaining the county's 32,000 miles of sewer lines. They are inspected with closed circuit cameras today—but technology exists that would allow the county to do in a week what it now takes a year to do.
Delivering a Higher Quality of Life
By employing new technologies, the county can become an even more vibrant, prosperous, green place to live, work and play. This is the ultimate goal for smart cities and counties—delivering a high quality of life that benefits everyone.
"Smart cities at its most basic are the use of technology to deliver livability, workability and sustainability," Bane said.
They deploy intelligent technology like sensors to collect data, communicate it back and analyze it. This data can provide real-time intelligence about what's happening, such as traffic conditions. The information can be used to make changes in real time or provide predictive analytics.
Growing the Innovation Ecosystem
Fairfax County's foray into smart cities technology is a direct result of its strategic plan to grow and diversify its economy.
The workshop supports the county's efforts to become an innovation hub and encourage more entrepreneurship and startups.
"It's also a lot about growing our innovation ecosystem," said Davis. "We have a lot of smart cities industries here in Fairfax County, so we want to make connections between those companies, government, nonprofits."
#  #  #