In anticipation of a high voter turnout, Fairfax County will offer 14 satellite locations for in-person absentee voting for the Nov. 3, general election.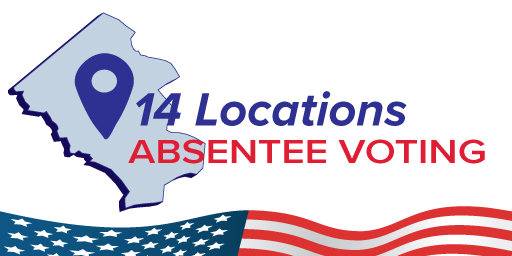 The Board of Supervisors established these locations during their July 14, meeting.
For the 2020 presidential election, the county is increasing its absentee voting locations compared to the nine that were available in 2016. Election officials called for added locations because they are anticipating a high turnout —especially with the new state law that allows "no-excuse" absentee voting. Until now, voters were required to have a reason to vote absentee.
These 14 satellite locations will be open for in-person absentee voting starting on Oct. 14:
Centreville Regional Library, 14200 Saint Germain Drive, Centreville
Franconia Governmental Center 6121 Franconia Road, Alexandria
Great Falls Library 9830 Georgetown Pike, Great Falls
Herndon Fortnightly Library 768 Center Street, Herndon
Laurel Hill Golf Club 8701 Laurel Crest Drive, Lorton
Mason Governmental Center 6507 Columbia Pike, Annandale
McLean Governmental Center 1437 Balls Hill Road, McLean
Mount Vernon Governmental Center 2511 Parkers Lane, Alexandria
North County Governmental Center 1801 Cameron Glen Drive, Reston
Providence Community Center 3001 Vaden Drive, Fairfax
Sully Governmental Center 4900 Stonecroft Boulevard, Chantilly
Thomas Jefferson Library 7415 Arlington Boulevard, Falls Church
Tysons-Pimmit Regional Library 7584 Leesburg Pike, Falls Church
West Springfield Governmental Center 6140 Rolling Road, Springfield
These locations are currently proposed to be open weekdays from 1 to 7 p.m., and Saturdays from 9 a.m. to 5 p.m. However, the Fairfax County Electoral Board may decide to adjust these hours later this summer based on the interest in absentee voting by mail.
The 14 satellite locations are in addition to the Fairfax County Government Center that also will be open for absentee voting.
Apply online now to absentee vote by mail, and you will receive your ballot after Friday Sept. 18, the official start for absentee voting by mail. County election officials are strongly encouraging absentee voting as the safest, quickest option during the ongoing pandemic.
For more information or questions, contact the Fairfax County Office of Elections at 703-222-0776, TTY 711 or by email.
#  #  #