Commercial, industrial and nonprofit property owners looking to make their buildings more energy efficient might get help from Fairfax County.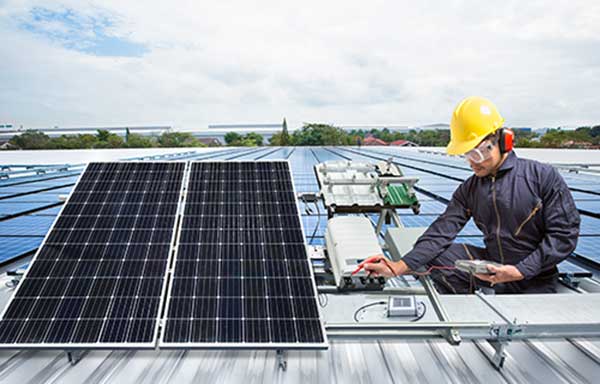 The county is proposing a program that would allow eligible property owners to take out loans with private lenders for energy efficiency, renewable energy, and water saving projects.
Called Commercial Property Assessed Clean Energy — or C-PACE for short — this program would offer loans through private lenders. Under state law, the county must pass an ordinance to establish the loan program—but the county would bear no costs for it. It neither loans the money nor guarantees or backs the loans. The program would be administered by a private company that the county will select through a competitive bid.
The Fairfax County Board of Supervisors discussed this financing program during its Feb. 12 Environmental Committee meeting. It is anticipated the board will take action to establish this private, loan program at their March 19 meeting.
C-PACE would help to spur business owners to invest in energy efficiency projects that will help reduce greenhouse gas emissions, officials believe.
Eligible improvements include heating and ventilation, lighting, insulation, low-flow water fixtures, reflective or green roofing and renewable energy such as solar or wind. These projects could be undertaken on existing buildings or when constructing new ones.
The program would offer benefits to both property owners and the county.
For property owners, C-PACE loans are more attractive than traditional commercial bank loans. First, property owners aren't required to make any down payments or put cash up front. The loans would be secured with a lien on the property, not by the business. Compared to traditional commercial loans, which often have to be repaid in five years, C-PACE loans would be amortized over a project's useful life, which could be 10 to 20 years. Finally, hard and soft costs could finance through the program.
If ultimately adopted, the program will advance the county's commitment to reducing greenhouse gas emissions, promoting sustainable energy efficient infrastructure. C-PACE will also enhance the county's property tax base and supports employment and economic growth.
The county has already cut its own greenhouse gas emissions by 20 percent per capita. However, the county government and public schools only account for 3 percent of the total greenhouse gas emissions in Fairfax County. The remaining 97 percent are generated by businesses and homes. Therefore, it is critical to encourage homeowners and businesses to reduce these harmful emissions that produce poor air quality and climate change.
#  #  #