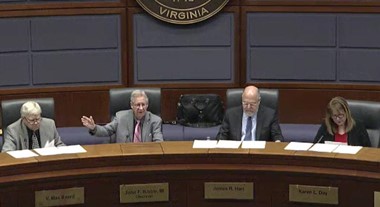 The Fairfax County Board of Zoning Appeals has an opening for two members.
Interested candidates must apply by Monday, March 1, 2021 to the Fairfax Circuit Court , which appoints the board's seven members. Applicants should send their resume to Chief Judge Bruce D. White, Fairfax Circuit Court, by email entitled "Board of Zoning Appeals Application" to kim.callahan@fairfaxcounty.gov OR by mail to 4110 Chain Bridge Road, Fairfax, VA 22030.
NOTE: THE APPLICATION SHOULD BE SENT VIA ONE FORM OF CORRESPONDENCE, EMAIL OR MAIL BUT NOT BOTH.
One position will be effective until April 15, 2023. The other position will be effective for a full five-year term from the date of appointment. Members of the Board of Zoning Appeals are appointed for staggered, five-year terms, and are compensated at a bi-weekly rate of $357.69. Applicants must be residents of Fairfax County and serve as private citizens, not as county employees.
The Board of Zoning Appeals' powers, duties and procedures are set forth in state law, and they are further detailed in the County's Zoning Ordinance . These duties include:
Hearing and deciding appeals of administrative decisions made pursuant to the Zoning Ordinance.
Hearing and deciding on applications for special permits and variances as authorized by the Zoning Ordinance
Hearing and deciding on applications for interpretation of the zoning map where there is uncertainty about the location of a zoning district boundary.
To learn more about the Board of Zoning Appeals, visit https://www.fairfaxcounty.gov/planning-development/board-zoning-appeals . For more information, contact Brent Krasner; Zoning Evaluation Division, Fairfax County Department of Planning and Development , at 703-324-1280, TTY 711.