What do New York City, Los Angeles and Fairfax County have in common?
They're on the cutting edge of a national movement to reclaim underused urban spaces, like parking lots, as parks.
Fairfax County will test the concept in Annandale on Sunday, June 3, from noon to 4 p.m., in the parking lot of the Annandale Volunteer Fire Department at 7128 Columbia Pike.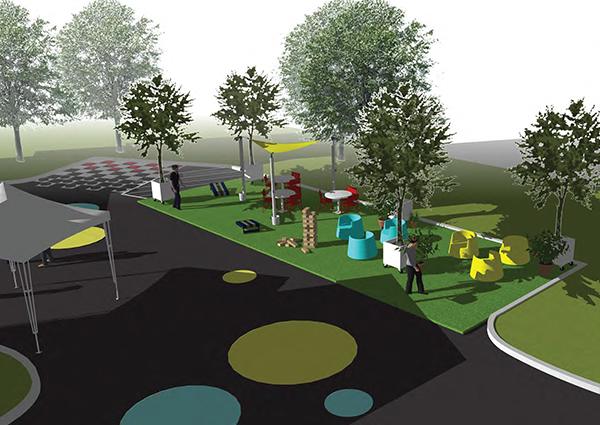 "Communities all across the country have spaces where parks are not just grass and trees, and there's a real value in trying out new types of park spaces," said Laura Baker, program manager with the Fairfax County Office of Community Revitalization.
The "demonstration park" will offer moveable chairs, tables, plants and programming activities for children. County staff also will be on site to provide translations in Korean and Spanish. Fairfax is conducting the demonstration so residents can share their ideas on how to design and program a dedicated, urban park in downtown Annandale.
"It's an interactive experience for people to actually come see, touch and feel what a flexible, park or civic space can be like, rather than going to a meeting room to try to conceptualize it," Baker said.
Ultimately, the county proposes to create a dedicated park or community gathering spot in the parking lot at 7200 Columbia Pike. Eight parking spaces would be repurposed at this county-owned property that is currently leased to the ACCA Child Development Center.
In the evenings and weekends when ACCA is closed, the space could be expanded further into the parking lot. The extra space could be used for planned activities like markets, outdoor fitness classes and other events and activities.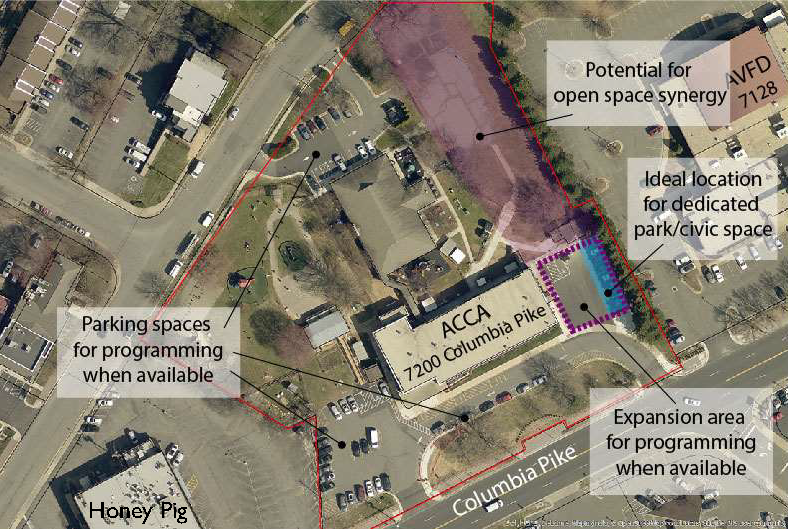 Following the demonstration in June, the county plans to create a conceptual design for the future urban park later this summer. Then, a second public demonstration will be held this fall in conjunction with the Taste of Annandale to get the community's feedback on the design concept. The design is expected to be finalized by the end of the year, with the completed urban park or civic space anticipated to open in summer 2019.
Why was Annandale chosen as the location to pilot this new kind of urban park?
"What we're trying to do is help contribute to the local vibrancy of Annandale and help further revitalization," Baker said. "We think having a space like this can really help bring about some near-term change which is tangible for people and can hopefully help propel future change."
Annandale's central business district, which is centered around Little River Turnpike and Columbia Pike, lacks public spaces. It is dominated by auto-oriented, shopping centers that don't offer people a reason to linger.
However, the future vision for this area calls for more walkable, mixed use development with a network of public gathering spaces and smaller, urban parks. The plan envisions an urban destination park in the downtown area to support revitalization efforts.
The county believes the new park or civic space will be a small, immediate step toward this vision.
"It's about thinking about places differently," said Baker. "This is an opportunity to do something now that gets us closer to that long-term vision. We think there is an opportunity to creatively offer a community space now that otherwise wouldn't be there."
For more information or reasonable ADA accommodations, contact the Fairfax County Office of Community Revitalization at 703-324-9300, TTY 711.
# # #