Fairfax County will hold a Democratic primary election for local and state offices on Tuesday, June 11.With the primary less than 30 days away, election officials want to remind voters where and how they can cast their ballots.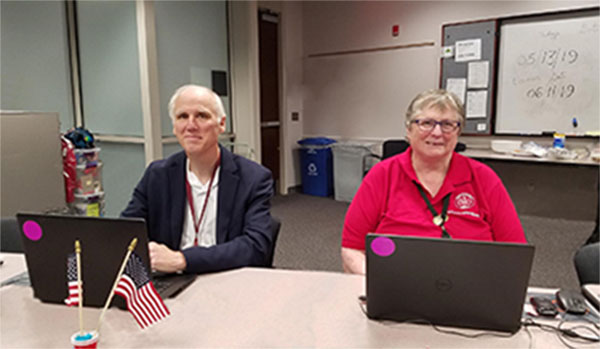 The June election is only a primary for Democratic Party candidates because the county's Republican Party committee chose to select its candidates by other means. In Virginia, political parties decide how they nominate their candidates, including using caucuses, mass meetings, primary elections and other methods.
The following offices are on the ballot:
Fairfax County Board of Supervisors Chairman
Board of Supervisors, Braddock District
Board of Supervisors, Hunter Mill District
Board of Supervisors, Lee District
Board of Supervisors, Providence District
Fairfax Commonwealth's Attorney
Virginia Senate: 31st, 33rd and 35th Districts
Virginia House of Delegates: 38th and 49th Districts
While only Democratic candidates will be the ballot, any registered voter can vote on June 11. Virginia holds open primaries, and voters don't register by party.
Absentee Voting: Location and Deadlines
In-person absentee voting is available until June 8 at 5 p.m. There are 20 valid reasons to vote absentee in Virginia, including working and commuting for 11 or more hours on election day. Check the list provided by the Virginia Department of Elections to see if you are eligible.
Currently, the only location to vote absentee in-person is the Fairfax County Government Center, Conference Rooms 2 & 3, 12000 Government Center Parkway, during these hours:
Mondays, Tuesdays, Wednesdays and Fridays: 8 a.m. to 4:30 p.m.
Thursdays: 8 a.m. to 7 p.m.
Saturdays, June 1 and June 8: 9 a.m. to 5 p.m.
On June 8 only, 10 extra absentee voting locations will be open from 9 a.m. to 5 p.m. in addition to the Government Center:
Where to Vote on Election Day, June 11
Voters must go their regular polling place on election day, June 11. All 243 polling places in the county will be open from 6 a.m. to 7 p.m.
Because some poll locations have changed since the November 2018 general election, voters should confirm their polling place online through the Virginia Department of Elections.
Check Your Registration
Voters should also confirm they are registered by checking on the Virginia Department of Elections website. To vote in the June 11 primary, the last day to register or update your information is May 20.
Still Have Questions?
For more information, contact the Fairfax County Office of Elections at 703-222-0776, TTY 711.
#  #  #