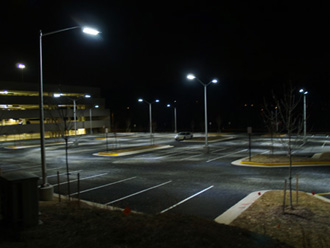 In May 2008, the Fairfax County Board of Supervisors authorized the establishment of pilot projects to evaluate LED (light-emitting diode) technology for the illumination of public roadways and public facilities to save energy and reduce operation and maintenance costs.
A light-emitting diode (LED) is an electronic light source. The LED was first invented in Russia in the 1920s, and introduced in America as a practical electronic component in 1962. LEDs present many advantages over traditional light sources including lower energy consumption, longer lifetime, improved robustness, smaller size and faster switching. Transitioning to LED-based lighting can save 40 to 70 percent of the electricity Fairfax County uses for parking garages, outdoor public areas, and street lighting. LEDs help protecting environment by reducing electricity consumption of lighting and not using hazardous mercury or lead unlike some traditional light sources.
Consistent with the directions provided by the Board of Supervisors, the Department of Public Works and Environmental Services (DPWES) installed LED lighting fixtures in lieu of standard High Pressure Sodium (HPS) fixtures in a commuter train station parking lot that was under construction at the Burke Centre Virginia Rail Express (VRE) Station.
The original lighting design for the parking lot called for the installation of sixteen 150 Watt HPS full cut-off cobrahead fixtures at a 25 feet mounting height to be installed and operated by the local utility company. Since the parking lot was to be open in the fall of 2008, it was necessary to keep plan revisions to a minimum; and a LED fixture that closely matched the lighting output of the original standard fixtures, but with lower power requirements was selected. It also was decided to maintain the new LED fixtures with in-house personnel to better monitor their long term performance.
Several fixtures that matched the performance requirements were evaluated. Ultimately, a LED SL 100W lighting fixture by eLumen Lighting Networks of Montreal, Canada was selected for this project.
The selected LED fixture offers the following characteristics:
Tool-less Modular Construction with extruded aluminum housing with two sealed clear flat acrylic lens panels composed of three 18W clusters, each with three hundred and sixty low power (0.048w) LEDs (a total of 2160 LEDs). This design results in a diffuse light output that minimize glare with an estimated energy saving of 40% as compared to a 150W HPS cobrahead unit.
All the LED lighting fixture components are recyclable (RoHS) and is CSA certified for the US.
High Efficiency power supply module (driver) voltage and current regulated to maintain a constant light output throughout the 20 year service life of the fixture with a total light lost factor of 0.95.