Fairfax County Department of Public Works and Environmental Services is designing and building a 2,100-space, eight-level parking garage that will serve future bus and rail commuters at the planned Innovation Center Station, one of six Metro stations being built in the Silver Line's second phase. The garage will include:
Bus bays
Kiss-and-ride spaces
Taxi stand
Motorcycle spaces
Secure bike room to house up to 100 bicycles
The parking garage is part of the larger Innovation Center development which will be a new transit-oriented development to be built just south of the Dulles Toll Road, adjacent to the Innovation Center Station. Fairfax County is partnering with a private developer to clear and grade the nearly 15-acre undeveloped site before installing stormwater infrastructure, building a road network, erecting street lights, and planting landscaping. The infrastructure will serve the overall development including the Metro Station Garage.
Projects such as Innovation Center are examples of the county's goal to create places where people want to be, as outlined in the Strategic Plan to Facilitate the Economic Success of Fairfax County. Transit-oriented developments, or high-density, mixed-use developments built around multimodal transit hubs, create vibrant communities where people can live, work, learn, and play. Fairfax County's commitment to improving its transportation system is leading to better connectivity between activity centers from Loudoun County to Washington, D.C.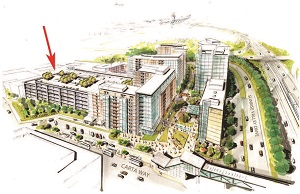 Project Details: At its July 29, 2014 meeting, the Fairfax County Board of Supervisors approved a land deal giving the county a 5.5-acre footprint for the garage, kiss-and-ride spaces, and Metro plaza, leaving 9.1 acres for the developer Nugget Joint Venture, LC. During the same meeting, the board approved the proposed development plan, which calls for a high-rise hotel; retail and office space, and apartments located within seven buildings. Stormwater runoff from most of the site will be held and treated for water quality at various points on the site before being re-used or released to the existing regional pond. Nugget Joint Venture, LC and Fairfax County are jointly developing the site common infrastructure at a cost of approximately $17 million. The County's share of infrastructure costs is approximately $7.5 million. The common infrastructure will include public spaces such as a pocket park, urban park, and a nearly one-acre metro plaza at the entrance to the future Metro station.
FCDOT Public Meeting - June 29, 2017