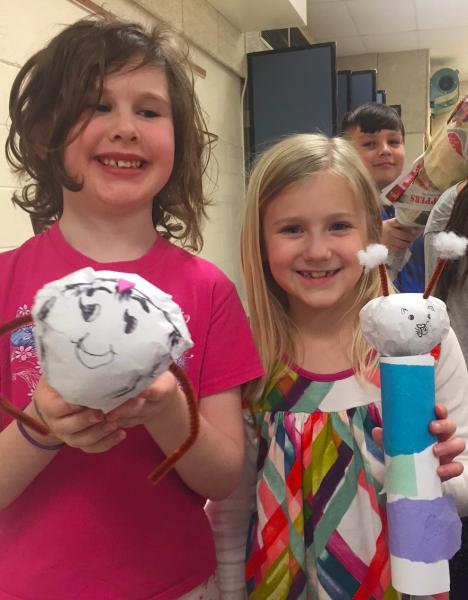 Every kids knows what a butterfly is, but what on earth is a caddisfly? Belle View Elementary School students found out at the school's annual STEAM night on Tuesday, Feb. 20. (STEAM = Science, Technology, Engineering, Arts and Math.)
Danielle Wynne, an ecologist in the Stormwater Planning Division of Fairfax County's Department of Public Works and Environmental Services, hosted a table where students learned all about this important benthic macroinvertebrate (a tiny bug that lives in creeks). Wynne's exhibit explained how scientists use indicator species, such as the caddisfly, to determine the health of our streams and watersheds.
Many caddisflies create houses for themselves out of sticks, leaves, or rocks and carry them around, similar to a hermit crab. With her young audience in mind, Wynne provided craft materials for the students to create their own caddisflies and houses to take home. Her goal is for every kid to understand how their actions affect water quality and impact the overall environment.
Wynne was invited to participate in the STEAM event by fifth-grade teacher Michael Marasti. She and Marasti have worked together previously on the Citizen Scientists Floatable Monitoring Program, a hands-on program in which students learn about data collection in the field by tracking litter and debris in their local streams.
Wynne's outreach team interacted with more than 3,500 students at 40 events last year, and she's on pace to match or exceed that number this year. Participating in the STEAM event exemplifies how subject matter experts from the Department of Public Works and Environmental Services partner with Fairfax County Public Schools to offer experiential learning opportunities. Both entities are committed to promoting a variety of exciting career paths to students.
Teachers interested in scheduling similar programs may email the Stormwater Planning Division or call 703-324-5500, TTY 711.