Fairfax County's Solid Waste Management Program is celebrating the sixth annual National Garbage Man Day during the week of June 17 to 24. Trash collection is hard, physical work and it's the fifth most dangerous job in the country.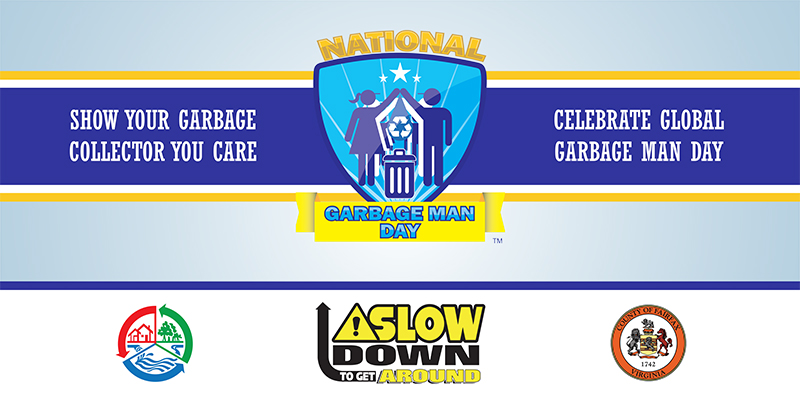 To honor the service of this important labor force, a thank-you event will be held on June 19, from 9 a.m. to 2 p.m. at the I-66 transfer station located at 4618 West Ox Road in Fairfax, Va. Collection workers arriving at the transfer station to empty their trucks will be given water bottles, a custom-designed cooler bag, and a heartfelt thank-you.
Most people take for granted that the trash they leave on the curb in the morning will be gone when they return home at the end of the day. Last year more than 1.3 million tons of trash and recyclables were collected from approximately 400,000 households and 116,000 businesses throughout the county. The efforts of these hardworking men and women keep communities clean and safe.
"We ask that you stand with us in respecting the work they do and the service they provide, and that you slow down and pass them with care if you must get around them," said Dennis Batts, emergency operations and safety manager, Solid Waste Management Program. "You can help ensure that they get home safely to their families each night."
Nationally, there are approximately 100,000 trash and recycling collection workers picking up more than 250 million tons of waste each year. Collection workers work on the hottest days of summer, the coldest days of winter, in driving rain and blowing snow, and on highways and streets where other drivers are often distracted or in a hurry. In recent years, the Solid Waste Management Program has stepped up its efforts to protect its workers and to share information with private haulers operating in the Northern Virginia region in the hopes of helping to keep them safe as well.
Since its 2016 Slow Down to Get Around event, the county has continued to look for new ways to draw attention to the dangers collection workers face each day and the law that was passed to protect them—including events like Garbage Man Day, and a safety page on the Solid Waste Management Program's webpage.
"Whether it's a smile and a wave or a thank-you, take a moment to show them a little love and let them know you appreciate the work they do," Batts said.
In this 2017 video, Dennis Batts describes trash collection in Fairfax County and why this work is important – and dangerous.