Fairfax County, Virginia, has been recognized with an Achievement Award from the National Association of Counties (NACo). The awards honor innovative, effective county government programs that strengthen services for residents.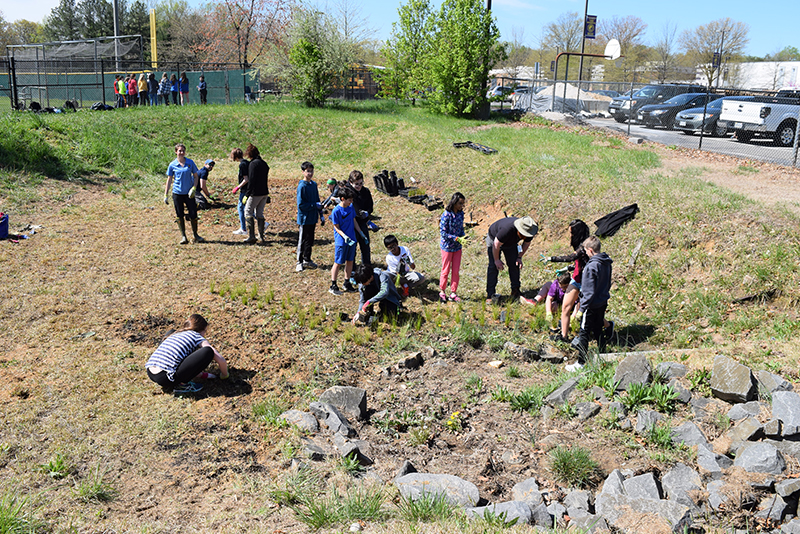 NACo recognized "Revitalize, Restore, Replant" (R3) in the Civic Education and Public Information Category. R3 is an innovative program that embraces Fairfax County goals to encourage students and teachers to use stormwater management techniques as teaching tools. The program is designed to transform existing stormwater facilities on county public school campuses into teaching opportunities through student-led native plant installations. Ecologists then guide students to revitalize, restore and replant stormwater facilities like bioretention and dry ponds.  Plant species are chosen to complement existing programs of study.
This is the fifth Civic Education and Public Information award that Fairfax County has won since 2012.
"With the help of the watershed education and outreach group (Christopher Mueller, Samantha Duthe and Anna Haley) we have been able to create this successful program," said Danielle Wynne, ecologist, Stormwater Planning Division. "This is a very proud moment in my time with the county as this has been one of my personal goals for many years." 
"Congratulations and well deserved," said Craig Carinci, director, Stormwater Planning Division, Department of Public Works and Environmental Services. "This has been a tremendous educational program that not only continues to strengthen the linkage between the schools' science programs with stormwater in a real way, but also enhances the performance of existing stormwater facilities. Great work to all who have been involved with this program." 
NACo President Roy Charles Brooks said, "Counties seize opportunities to deliver services more efficiently and build stronger communities every day. Achievement Award-winning programs are examples for counties that are determined to enhance services for our residents."
Nationally, awards are given in 18 categories that reflect the vast, comprehensive services counties provide. The categories include children and youth, criminal justice, county administration, information technology, health, civic engagement and many more.
Started in 1970, NACo's annual Achievement Awards program is designed to recognize county government innovations. Each nominee is judged on its own merits and not against other applications received.
NACo will recognize award-winning counties at its 2018 Annual Conference and Exposition July 13-16 in Nashville/Davidson County, Tennessee.