Fairfax County has earned the Arbor Day Foundation's Tree City USA designation for the 35th consecutive year. Each year since its inception in 1976, thousands of urban foresters across the country submit applications to be considered to receive this cherished designation. The accomplishment will be celebrated during a brief ceremony at the county's Earth Day event, Springfest Fairfax, on Saturday, April 21, from 10 a.m. to 4 p.m. at Sully Historic Site, 3650 Historic Sully Way in Chantilly.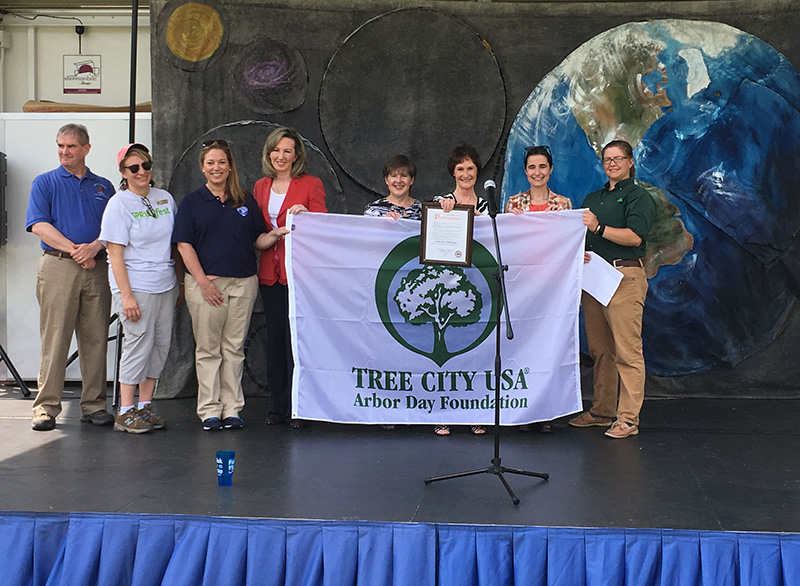 It is the Foundation's belief that the Tree City USA program has been "greening up cities and towns for 42 years." It is a nationwide movement that provides the framework necessary for communities to manage and expand their public trees.
To qualify as a Tree City USA community, four standards established by the Arbor Day Foundation and the National Association of State Foresters must be met. The standards were established to ensure that every qualifying community would have a viable tree management program and that no community would be excluded because of size. The standards are:
A tree board or department is required.
A tree care ordinance is required.
A community forestry program with an annual budget of at least $2 per capita is required.
An Arbor Day observance and proclamation is required.
Part of managing the forest is knowing what it contains. As part of the Tree City application, urban foresters performed an i-Tree Eco survey on 200 plots across the county. For the survey, urban foresters collected a suite of measurements which describe Fairfax County's urban forest according to tree species, structure and a multitude of ecosystem services such as energy savings, stormwater mitigation, and pollution removal.
The data is run through the i-Tree model which compiles summary information about the urban forest and its associated ecosystem services. An interesting snapshot appears:
There are more than 44 million trees in Fairfax County
The tree cover is 51.2 percent
The most common species are the American Beech at number one; the red maple at number 2; and the tulip tree at number 3
Trees in the county remove 4.538 tons of pollution each year
Trees in the county produce 232.9 thousand tons of oxygen per year
Trees in the county provide building energy savings of more than $34 million per year
Trees in the county have a structural value of more than $32 billion.
Fairfax County is one of 3,400 communities that have made the commitment to become a Tree City USA. In the Commonwealth of Virginia there are 56 communities that have attained the Tree City USA designation (as of late February 2018).
The i-Tree program was developed by the U.S. Forest Service, among others. Tree City USA is an Arbor Day Foundation program in cooperation with the US Forest Service, Department of Agriculture, Urban and Community Forestry Program and the National Association of State Foresters.