The Mid-Atlantic Chapter of the American Public Works Association (APWA) will recognize six Fairfax County Department of Public Works and Environmental Services projects during an awards ceremony at the chapter's 60th Annual Conference and Equipment Show on May 1-4, in Fredericksburg, Va. The annual awards celebrate the best infrastructure projects constructed in Virginia, Maryland, and Washington, D.C. Some projects will compete in APWA's national awards program.
Projects are judged in the following categories: structures, transportation, environment, historical restoration/preservation, and disaster or emergency construction/repair. Each category includes divisions based on project cost (less than $5M, $5M-$25M, $25M-$75M, and more than $75M).
Fairfax County's Winning Projects
Herndon Fire Station (Structures, $5M and less than $25M)
Public Safety Headquarters (Structures, +$75M)
Reston Police Station and Governmental Center, honorable mention (Structures, $5M and less than $25M)
Difficult Run Force Main Rehabilitation (Environmental $5M, but less than $25M) 
Potomac Avenue Emergency Sewer Replacement (Disaster or Emergency Construction/Repair, less than $5M)
Accotink and Little Hunting Creek Sanitary Force Main Rehabilitation (Environmental, less than $5M)
The six projects were successful due to the department's commitment to sound project management practices, which include quality design and construction, schedule management, budget, and construction safety. These practices may seem self-evident, but successfully delivering projects in an urbanizing environment means addressing many challenges.
These capital improvement and emergency repair projects considered a plethora of factors in their designs, such as providing stormwater management and sediment control; managing construction activities in phases; dealing with inclement weather; relocating utilities; conserving trees; creating safe work sites for all employees, contractors, and occupants; providing rigorous quality assurance; communicating with residents; managing construction activities within residential areas; and designing facilities that comply with the Americans with Disabilities Act (ADA) requirements.
The U.S. Green Building Council's Leadership in Energy and Environmental Design (LEED) guidelines were an integral consideration in the design and construction of the building projects. The Fairfax County Board of Supervisors requires all county building projects to achieve a minimum of silver certification. The Herndon Fire Station achieved LEED® Gold certification!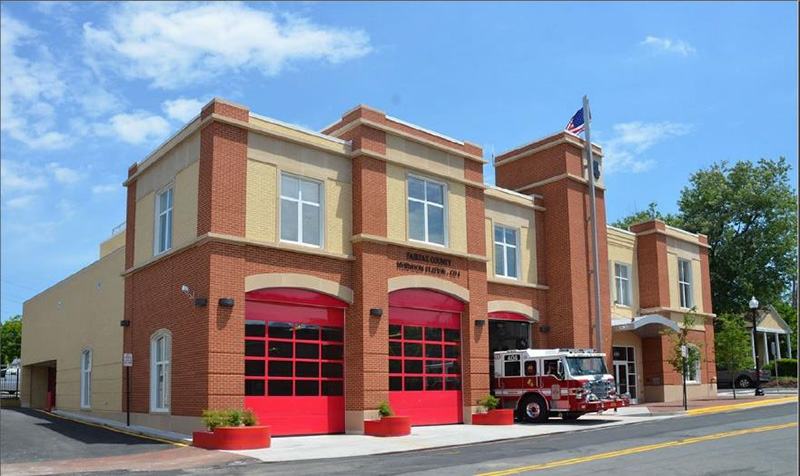 The Herndon Fire Station project (680 Spring Street, Herndon, Va.), completed in March 2017, consisted of a new 14,500 square foot facility with three apparatus bays constructed atop a below grade parking garage. The total project budget of $13,350,000 was funded through public safety bonds approved by Fairfax County voters in the 2012 bond referendums.
Several innovative technologies were included in the design and construction of this project. A green roof with modular planting trays helps minimize heating and air conditioning costs and reduces stormwater runoff and noise. The building system is fully automated with occupancy controlled HVAC which is centrally monitored offsite by the county. Energy-saving appliances and equipment and water-saving features were implemented throughout.
In addition to the green roof, bio-filtration tree boxes help treat stormwater on-site. Constructing the new facility on the site of the previous fire station protected and preserved habitats and natural resources. The new facility includes a "memorabilia" display of several items salvaged from the old station. The public grand opening was held on April 22, 2017.
The project team consisted of DPWES staff, architectural firm Zivic and Hurdle Architects, civil engineering firm Rinker Design Associates; and the general contractor was Biscayne Contractors, Inc.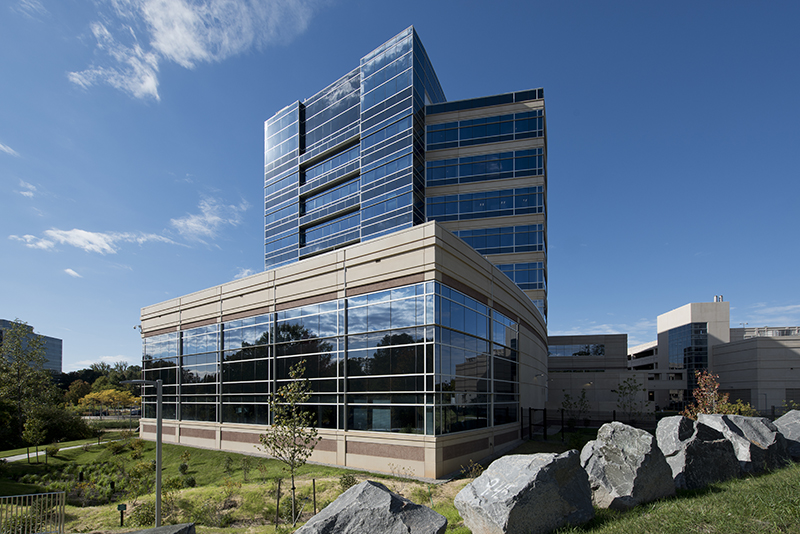 The Public Safety Headquarters project (12099 Government Center Parkway, Fairfax, Va.) provides a new office for both the Police Department and the Fire and Rescue Department. The building maximizes shared resources among first responder agencies that often work together in the field. The new facility consists of a 274,000-square-foot Class A office building and an 860-stall parking structure, located on a secure 9.3-acre portion of the Fairfax County Government Center campus, adjacent to the Herrity Building. The 160-ft high-rise office building has eight levels of occupied space and a two-level mechanical penthouse at the top of the structure. The PSHQ is designed to fit harmoniously into county's central governmental campus, which is Fairfax County's seat of government. The total project budget for the new facility is $142 million.
PSHQ is the first large county facility to use energy-efficient LED lighting throughout both the building and garage and also includes several innovative stormwater enhancements that exceed regulatory baselines. The project included improvements to the surrounding area designed in response to community feedback and input. Improvements include a new traffic signal, sidewalks, bus shelter, enhanced campus signage, and increased pedestrian safety. A grand opening and ribbon cutting ceremony for was held on October 26, 2017.
The project team consisted of DPWES staff; the design consultant team of Hellmuth, Obata, and Kassabaum, P.C. (HOK), architect; William H. Gordon Associates, civil engineer; and the general contractor was Manhattan Construction Company.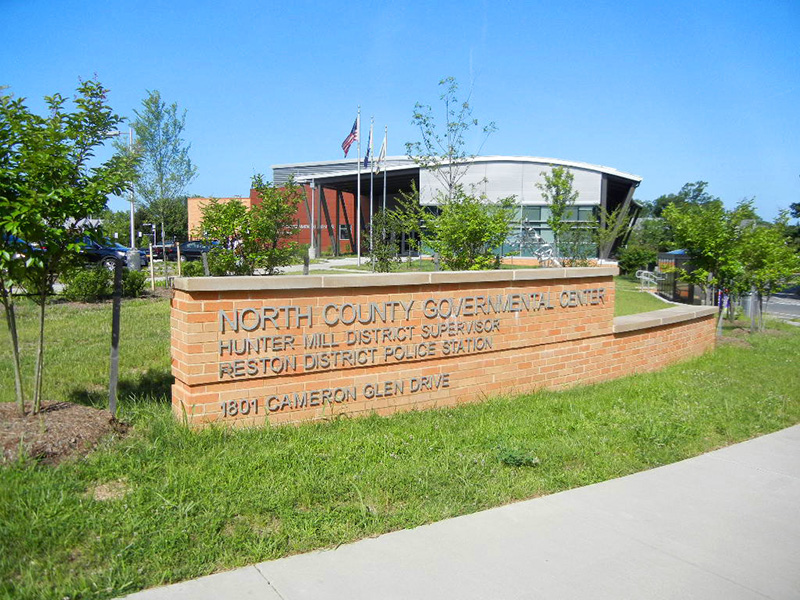 The Reston Police Station and Governmental Center project (12000 Bowman Towne Drive, Reston, Va) was approved by Fairfax County voters in the 2006 bond referendum. The construction consisted of a new 37,000-square-foot facility, 207 parking spaces, and a new fueling station. The Reston Police Station and Governmental Center is the first new building within the northern limits of the Reston Town Center urban master plan, and was strategically sited to allow for future urban redevelopment of the Reston Town Center North core area. The new building almost doubles the size of the original facility. The total project budget was $18,800,000.
Generous sidewalks, benches, landscaping and street trees populate this site creating a pleasant walking environment. This facility, located on the site of the previous station, has improved the presence in the community and helps to promote the civic presence of the Police Department and the Fairfax County Board of Supervisors. Pervious concrete, tree box filter systems, and other stormwater best management practices slow down and treat runoff which reduces erosion downstream and improves water quality.
The project team included DPWES staff, the architectural firm AECOM, civil engineering firm Burgess and Niple, and general contractor Dustin Construction.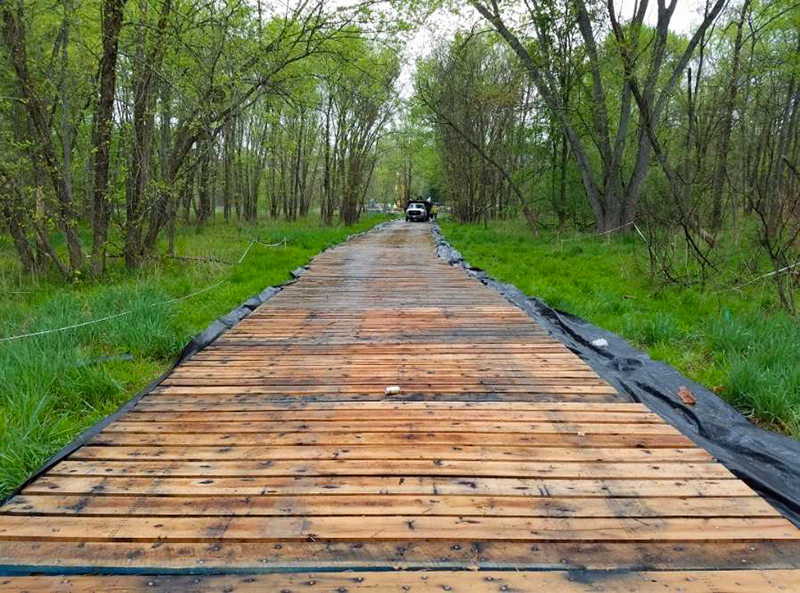 The Difficult Run Force Main diverts wastewater flow from the DC Water's advanced treatment plant to the county-owned plant in Lorton, Va. The project, completed concurrently with the rehabilitation of the Difficult Run Pump Station, was required to ensure the force main was cleaned, fully re-inspected, completely designed and rehabilitated, and hydrostatically tested. Trenchless rehabilitation using cured-in-place-pipe was chosen to limit disruption to the surrounding residential area. Point repair excavations were used to replace corroded sections of pipe and to replace some joints. This 5.7-mile force main traverses several private properties, a local high school, and busy roadways. Timber wetland matting created access for equipment, prevented erosion problems, and protected tree roots.
The project team consisted of DPWES staff, the engineering firm Hazen, and general contractor, Garney Construction.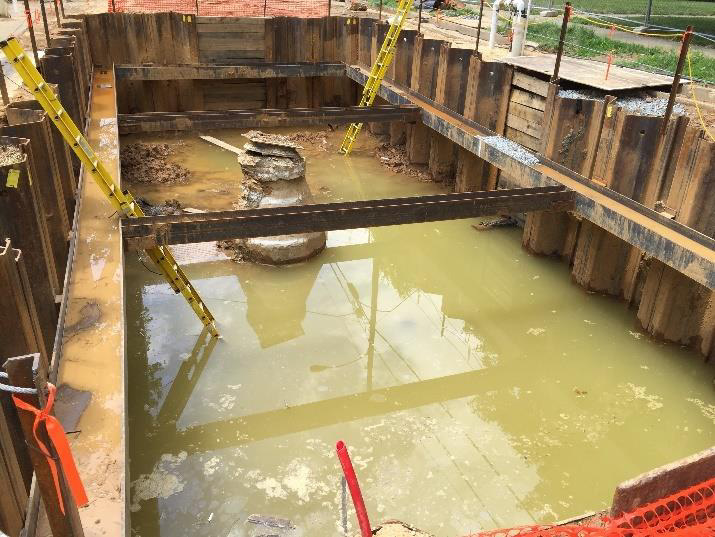 The Potomac Avenue Emergency Sewer Rehabilitation was a challenging emergency project to repair a sanitary sewer line serving several condominiums. In March 2016 a manhole located on Potomac Avenue in the Belle View area of Fairfax County, Va., sank approximately five feet below the paved surface. The project site is near the Potomac River and is known for its high water table and running sands. The geotechnical conditions caused the manhole's concrete foundation to fail, which sheared all four pipe connections. Actions included bypassing the affected manhole, excavating and determining the root-cause of the problem, and installing a permanent solution to avoid future problems. To address the environmental concern of releasing sediment into the storm sewer system, the dewatering sump pumps were discharged into large silt bags to limit the debris leaving the site.
The project team, consisting DPWES staff, the design consultant Dewberry, and the contractor Flippo Construction Company, persevered through several difficulties and installed a permanent solution to an ongoing problem.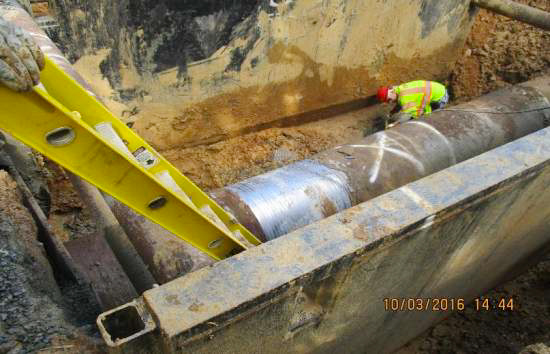 The Accotink and Little Hunting Creek Force Main Rehabilitation project was a challenging three-site project that took more than 18 months to complete. Three sections of distressed sanitary sewer force main were successfully rehabilitated while remaining in service with minimal impacts to the surrounding environment, no need for bypass pumping, and no force main failures during construction. This project required coordination and cooperation among many stakeholders. Environmental considerations included the proximity of Little Hunting Creek, wood turtle and northern long-eared bat habitat, and migratory bird nesting areas. Despite the challenges that resulted from unexpected and unknown field conditions, VDOT permitting, and difficult stakeholders, the team persevered to complete a quality project in a safe and environmentally-conscious manner.
The project team consisted of DPWES staff, design consultant CH2M, and Sagres
Construction Corporation.