Fairfax County's Wastewater Management Program has published a new report titled "Sustaining the Environment and Protecting Public Health." The publication explains the program's efforts to protect, restore, and enhance water quality in our region – and the $2B in assets involved in the process.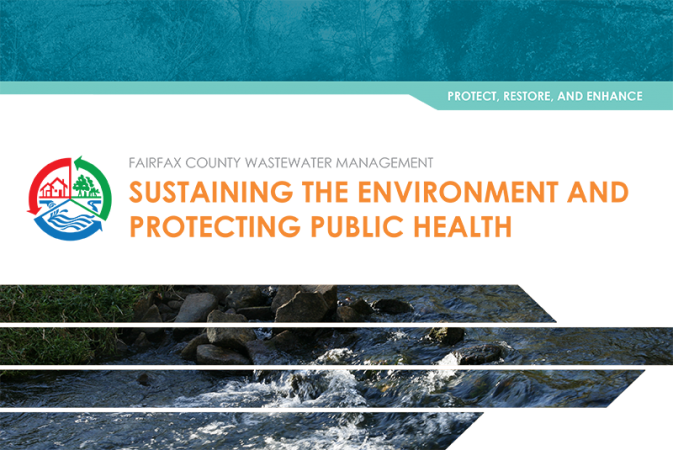 Most people don't think about wastewater. They simply flush it and forget it. Yet collecting and treating wastewater is perhaps the single most important building block on which modern society is built. If wastewater – water used for cooking, cleaning, flushing toilets, and industrial processes – was released untreated, waterborne illnesses such as cholera and typhoid would devastate our communities.
The new report explains complicated industrial processes using colorful photos, infographics, and descriptive examples. A custom centerfold graphic illustrates water's journey as it is used by communities, treated, and returned to the environment. Other highlights include information about the Sewer Science Lab program for public school students and other community outreach efforts, and guidance on the proper disposal of medicine, wipes, and FOG (fats, oils, and grease).
Managing wastewater is a highly regulated industry, and Fairfax County continues to meet and exceed requirements while providing a resilient, efficient, and affordable wastewater treatment program.
Fairfax County's Wastewater Management Program protects public health and the region's water quality by collecting and treating millions of gallons of wastewater per day from about 340,000 residential and business customers. The county's wastewater collection and conveyance system is one of the nation's largest sanitary sewer systems, covering nearly 234 square miles. The program is operated by the Department of Public Works and Environmental Services.
Read, download, or print the report. A limited number of printed copies will be made available at select county offices. For more information, contact Matthew Kaiser at 703-324-8455.