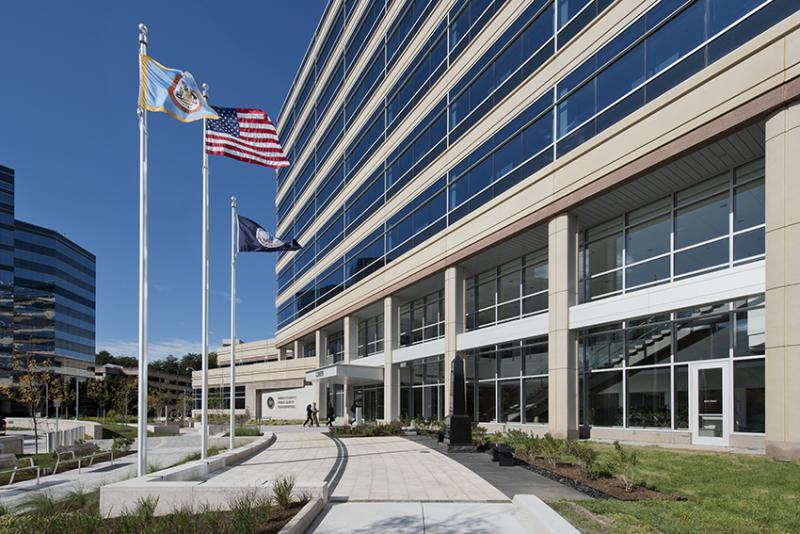 On June 28, 2018, the Fairfax County Public Safety Headquarters located at 12099 Government Center Parkway, Fairfax, Va., achieved LEED Gold certification from the U.S. Green Building Council. Certified buildings are resource efficient and less expensive to heat, cool, and maintain. LEED (Leadership in Energy and Environmental Design) projects are scored based on points earned in six sustainable design categories: site selection, water efficiency, energy and atmosphere, materials and resources, indoor environmental quality, innovation in design, and regional priority credits. With the addition of PSHQ, Fairfax County now has 15 LEED Gold certified and 15 LEED Silver municipal buildings.
The nine-story, 274,000 square-foot PSHQ accommodates both Police and Fire and Rescue Department administrative staff to maximize shared resources among first responder agencies that often work together in the field. The project is located on a secure 9.3-acre portion of the Fairfax County Government Center campus, adjacent to the Herrity Building, and includes an 850-stall parking structure. The facility is designed to accommodate more than 700 employees by 2030 and includes space for Police central records, a press room, training rooms, an occupational health center, fire marshal's offices, exhibit areas, and departmental memorials. The total project budget for the new facility was $142 million.
The building is the county's first large facility to use LED lighting throughout.
Sustainable Design Highlights:
Green roofs, permeable pavements, and stormwater management features work together to slow down, filter, absorb, and purify rain water as it leaves the site.
A 25,000-gallon tank harvests some of the runoff and reuses it for on-site irrigation.
Daylight harvesting sensors take advantage of natural lighting and adjust indoor light levels depending on the amount of sunlight available.
Low-flow plumbing fixtures
Eco-smart environmental controls
Permeable pavement
Daylight harvesting
Bio-filtration areas
Recycled materials
Use of low VOC emitting materials improves the interior air quality
The PSHQ project included improvements to the surrounding area including a new traffic signal, sidewalks, bus shelter, enhanced campus signage, and increased pedestrian safety. A grand opening and ribbon cutting ceremony was held on October 26, 2017.
The project team consisted of Department of Public Works and Environmental Services staff; the design consultant team of Hellmuth, Obata, and Kassabaum, P.C. (HOK), architect; William H. Gordon Associates, civil engineer; and the general contractor was Manhattan Construction Company.
PSHQ was recently recognized with a Project of the Year Award  (Structures: $75M+ category) by the Mid-Atlantic Chapter of the American Public Works Association in May 2018. The awards program highlights the best infrastructure projects in the national capital region.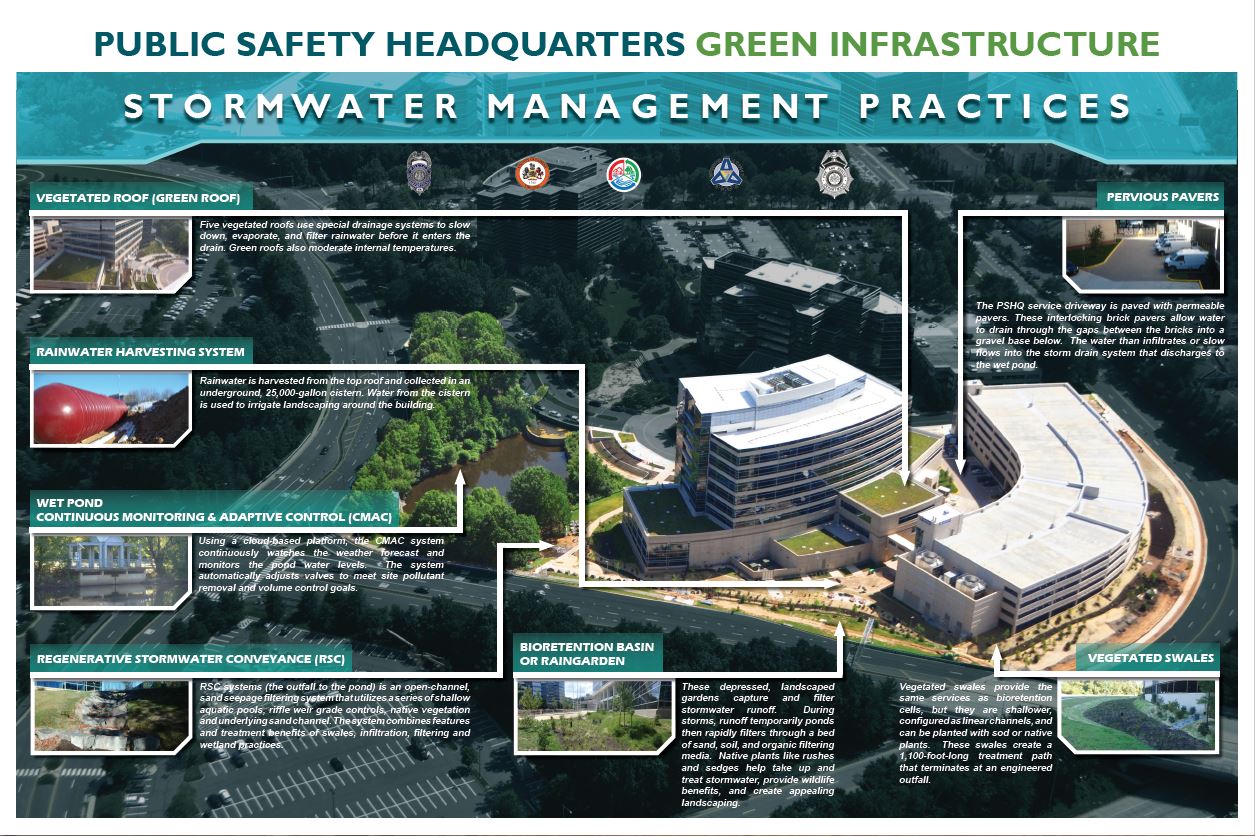 Click to Download