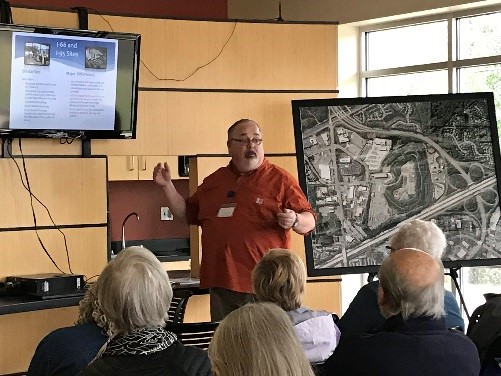 In late October, approximately 20 adults from George Mason University's Osher Lifelong Learning Institute toured Fairfax County's trash and recycling processing facilities at the I-66 transfer station in Fairfax and the I-95 landfill complex in Lorton. OLLI is an educational and social organization of more than 1,200 retirees living in the area.
The tour began with an explanation of trash and recycling in Fairfax County by Charlie Forbes, compliance and recycling chief, Solid Waste Management Program (pictured). He spoke to the group about a range of topics, including recycling rules, methane gas management, construction and demolition disposal, and proper disposal of medications and hazardous materials.
Following Forbes' presentation, from a window above the transfer station's tipping floor, the group watched as collection trucks dumped their loads and a wheel-loader pushed the trash into semi-trailers waiting below. Assistant Superintendent Daniel Brooks led the group on a tour of the household hazardous waste drop-off area, where products containing toxic, ignitable, corrosive, and reactive chemicals are collected for safe disposal.
The group then traveled to Lorton for a tour of the Covanta Fairfax waste-to-energy plant, a private facility that converts 3,000 tons of trash a day to electricity. The group moved next door to the I-95 landfill complex to see where ash from the waste-to-energy plant is disposed of. They learned how runoff, or leachate, from the closed municipal solid waste landfill is collected and pumped to the wastewater treatment plant to protect local water quality.
OLLI member John Nash organized the tour for his group. "Most people have little to no idea about the technological processes that go into solid waste management, and Fairfax County arranged an excellent briefing and tour of its facilities," said Nash. "Tours of these facilities certainly promote increased understanding for the OLLI group and their appreciation of the county's efforts to manage what we call garbage."
A highlight of the tour was a stop at the apiaries installed at the I-95 landfill complex. The beehives are managed through a partnership with George Mason University and funded through the county's Environmental Improvement Program. The bees feed on flowering native vegetation growing in a pollinator meadow planted as part of the project. The native plants' long roots uptake water, improve infiltration into the soil, and prevent erosion. The meadow's ability to absorb rainwater reduces leachate production, and the lack of turf grass reduces mowing costs.
For more information on scheduling a tours of the county's solid waste processing sites, please call 703-324-5230.