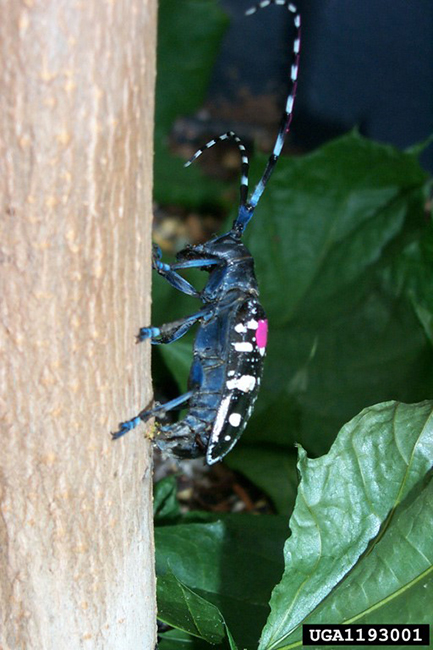 Staff of the Urban Forest Management Division (UFMD) would like residents to keep an eye out for the Asian longhorned beetle (ALB) in their yards and when visiting county or state parks. Looking for ALB could be a fun game to be played with children who have been staying home due to the COVID-19 pandemic.
Next time you are on a walk with your children in your neighborhood or visiting a park, take a few minutes to look at the trees. Check the trees in your yard, too. The Asian longhorned beetle is a non-native, invasive insect that attacks and kills many species of shade trees, including its favorite, the maple.
All infestations of ALB have been found by residents who have reported their findings to state or county agencies.
Asian longhorned beetle checklist:
Check trees for large, almost dime-sized holes in the branches or trunk. You should be able to place a pencil into the hole about an inch deep. There may be broken branches with large tunnels on the inside of the wood
Look for large, black and white beetles with very long antennae, sometimes longer than the beetle's body. ALB may 'squeak' when startled
Check pool filters for large, black and white spotted insects. ALB does not fly well and may drown in swimming pools
If you find ALB anywhere in Fairfax County:
Take a few good pictures of the insect, noting its identifying features: size, black and white spotted body, long, black and white striped antennae and blue feet
If you are able to capture the insect, place it in a jar or plastic bag and put it in the freezer
Send your pictures to the Fairfax County Urban Forest Management Division at pestmail@fairfaxcounty.gov or call the Urban Forester of the Day at 703-324-1770, TTY 711
More information about trees and tree care is available, or see the tree basics booklet in six languages published by the Fairfax County Tree Commission.