~Urban Forest Management Division Monitoring Transmission & Educating Public~
FAIRFAX COUNTY, Va. – If the leaves of beech tree saplings have dark green stripes in the veins, or if more mature trees have reduced foliage, they may be showing signs of beech leaf disease (BLD). Infected trees may also exhibit puckered, cupped or distorted leaves.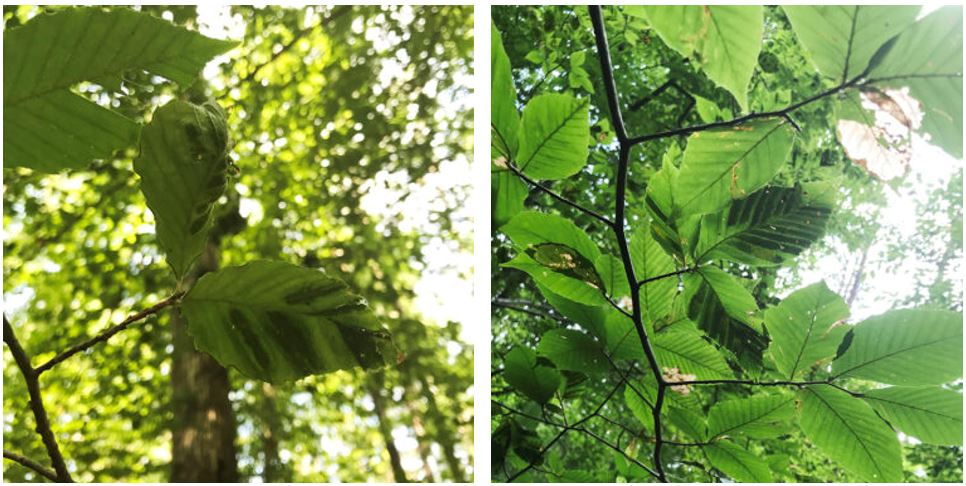 The disease, first seen in Ohio in 2012, has been confirmed in Fairfax County. The Urban Forest Management Division has been closely monitoring the situation since September, when the disease was detected in Burke Lake Park, Fountainhead Park and Hemlock Overlook Park.
Given the American beech tree comprises a large portion of our eastern trees, the disease can potentially alter the composition of the eastern forest. It is one of the most common local giant trees. Fairfax County continues to develop and utilize practices and regulatory programs to protect, conserve, establish and rehabilitate natural resources (e.g., tree cover, open green spaces, parkland) that provide ecological and health benefits.
Good tree care, including proper mulching and watering during droughts may be helpful. There is on-going research underway to learn more about BLD and how to effectively treat it. Experts are looking into the possibility that transmission may be through bacteria, fungi and mites. BLD is not harmful to humans, animals or other tree species and yard plants.
Residents who believe a tree may be infected are strongly urged to report it to pestmail@fairfaxcounty.gov and include pictures of the tree. Reports also can be made by calling 703-324-1770 TTY 711. Reporting potential infestations will allow UFMD to quickly begin monitoring BLD and providing treatment once it is developed.
More information about beech leaf disease is available at Beech Leaf Disease.