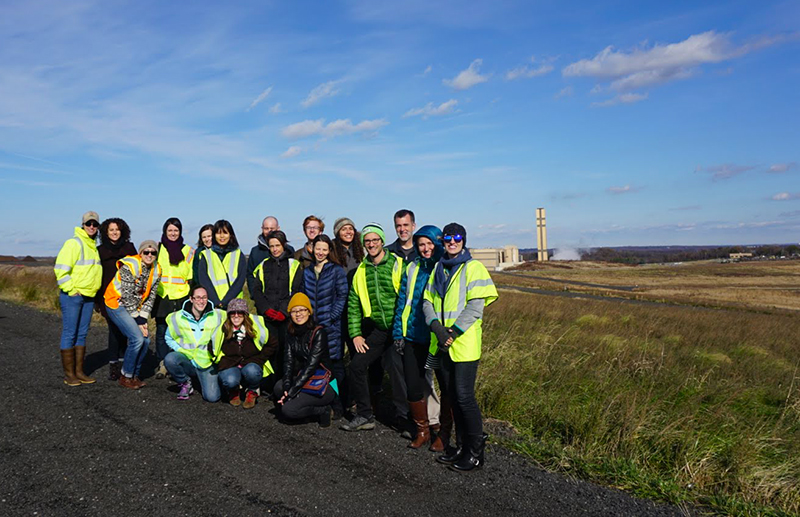 On Friday, November 16, a group from The World Resources Institute's Washington, D.C. office toured the I-95 landfill complex in Lorton, Va. Environmental compliance specialist Erin Abrahams led the tour, which focused on the general operations of the solid waste processing site and future sustainability goals.
"The tour complimented their diverse teams on many aspects of environmental management, from waste, to water to air quality," said Abrahams.
The landfill stopped accepting municipal solid waste (trash) in the early 1990s, and plans are underway to transform the site into a destination for environmental education. Highlights of the 300-acre site's operations, which are managed by the Fairfax County Solid Waste Management Program, include a residential recycling drop-off area, a household hazardous waste disposal area, a glass crushing plant, a tire recycling program, a native meadow and honeybee program, a mulching facility, a landfill gas production system, and an ash disposal area.
The World Resources Institute is a global non-profit organization with a mission to "move human society to live in ways that protect Earth's environment and its capacity to provide for the needs and aspirations of current and future generations."
The group's tour organizer said the tour provided a new perspective on waste management and moving toward a circular economy model. 
After the tour, the group visited the adjacent Covanta Fairfax, Inc., waste-to-energy plant, which converts 650,000 tons of trash into electricity each year. More than a million gallons of reclaimed water from the county's wastewater treatment plant are pumped to the plant's cooling towers every day.
To schedule a tour of the I-95 landfill complex, call 703-690-1703, TTY 711, and ask to speak with Katie Dent or Erin Abrahams.  The tour schedule is flexible and can accommodate learners of all ages.