"Changing how food and yard waste is managed is easier than you might think," said Rachel Griesmer, Urban Forester II, Public Works and Environmental Services. "In the United States, about 15 percent of the waste stream is food and another 13 percent is yard waste according to the 2017 Waste Characterization Study by the Environmental Protection Agency. Food and yard waste could be diverted to composting," Griesmer said.
"Composting is a terrific idea and there are other ways to prevent food waste from entering the waste stream," said Christine McCoy of the Solid Waste Management Program. "If we can think of source reduction and donation rather than throwing food away, we can feed hungry children and cut down on the amount of food that is wasted," said McCoy.
Fairfax County temporarily eliminated yard waste pickup to protect solid waste employees during the COVID-19 pandemic. "This means residents may have yard waste materials readily available for composting, and with more people having their meals at home, it's a perfect time to start composting food waste," McCoy said.
Yard and food waste can be composted except for:
meat, fat, grease
fireplace ashes
dairy products
pet waste
yard waste that contains noxious weeds, invasive plants, is diseased or too bulky
Meat and fat attract rodents and flies; pet waste may contain parasites and bacteria; and large sticks and logs take too long to break down.
The structure and composition of compost determines a successful outcome. It is necessary to have 70 percent carbon (brown) and 30 percent nitrogen (green):
Browns such as newspaper, cardboard, dead leaves and small twigs
Greens such as grass clippings and food waste, including fruit
"The greens and browns should be placed in alternating layers and kept moist," said Griesmer. The green materials provide nitrogen to break down the matter into usable organic material. Such problems as undesirable odors result from an incorrect mix of greens and browns.
"The compost, when done correctly, is a highly desirable organic material that enriches the soil, helps retain moisture in the soil and makes use of waste. Compost introduces beneficial bacteria and fungus to vegetable and flower gardens," McCoy said.
A compost pile may be in a sunny or a shady spot away from standing water. When the green to brown mix is correct and the compost pile is moist and aeriated, the microbes begin to break down the contents, generating heat. As the pile heats up, different microbes take over and continue to break down the content. The pile should be kept moist but not wet. Food waste should be buried about ten inches deep into the pile. Turning the compost every three to seven days with a garden pitchfork and keeping the pile moist will accelerate the decomposition process. Turn a compost tumbler every three to four days.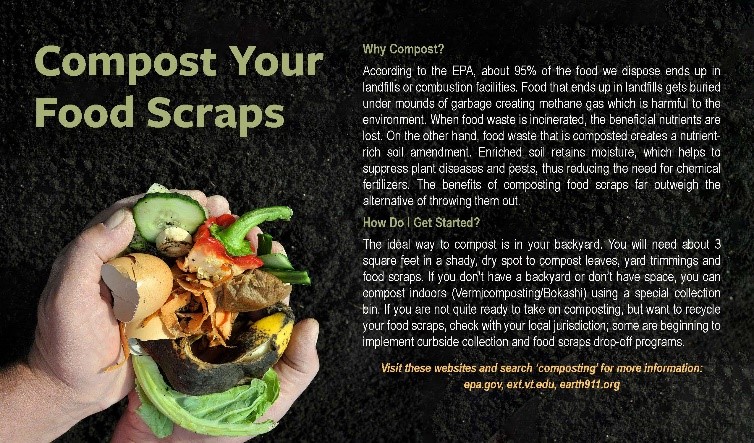 If composting at home is not possible, there are two licensed compost companies that pick up organic waste from the curb and bring it back to the homeowner for gardening, for a fee.
No yard? No problem. Compost bins and tumblers can be purchased at local home improvement stores. There are various methods and materials used but the basics remain: greens, browns, moisture, and regular turning.