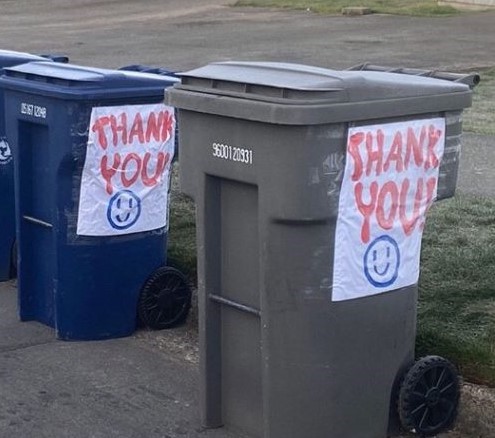 In a normal year, collecting trash and recycling is the fifth most dangerous occupation. The men and women who keep our neighborhoods clean operate heavy machinery, work among distracted drivers in busy streets, and haul away our waste in the rain, summer heat, and snow. In 2020, the global pandemic has made their essential jobs even more difficult and dangerous.
During this year's National Waste and Recycling Workers Week (June 14-20), Fairfax County's Solid Waste Management Program is holding a contest to highlight the most creative examples of residents thanking their collection workers. Starting June 14, residents are encouraged to display messages of appreciation for the men and women who serve their neighborhood. The possibilities are endless, from a chalk drawing on the sidewalk or driveway, to cardboard signs, banners, a thank-you note taped to a trash cart, or a photo of children waving to a crew.
However you choose to say thanks, please send photos of your efforts to trashmail@fairfaxcounty.gov. The most creative idea may be used to decorate a trash or recycling container. All entries will be shared on the county's Facebook page.
So, please grab your chalk, paint, or markers, and let your trash and recycling workers know how much you appreciate them! Your recognition of their efforts will boost their morale and let them know you care.
The contest will conclude on June 19. For more information, please contact the Solid Waste Management Program at 703-324-5230, TTY 711.