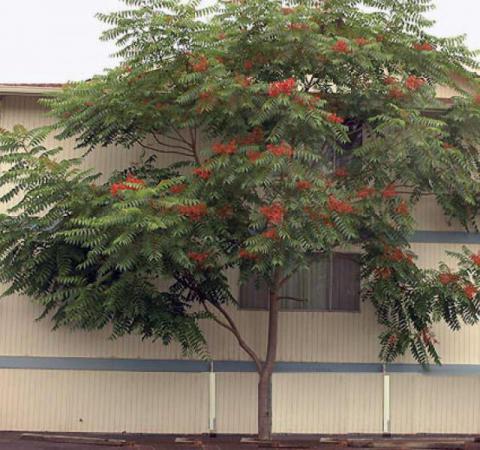 Invasive plants are those that are not native to Fairfax County or Northern Virginia. They are brought into the area intentionally or unintentionally. These plants are characterized by unrestrained growth due to a lack of natural enemies such as pests and predators.
For an introduction to the concept of invasive plants, read What are Invasive Plants?
Physical methods are often the most straightforward way to control small areas of invasive plants. Physical methods entail any means of mechanically removing the plant, by cutting, smothering, pulling, or digging up the plants. In many cases, invasive plants readily re-sprout from fragments of roots that remain in the soil. It is important to thoroughly remove all parts of the plant, and to keep a close eye on the area in future years to remove any re-growth that may occur.
In the case of invasive plants, cultural controls usually entail preventing the spread of invasive plants and introducing native plants to the property. By assuring that any soil, plants, mulch or straw that is brought to a property are free of weeds or seeds, future outbreaks can be prevented. Additionally, if a lawn service is hired for residential or commercial properties, it's good to find out the method lawn service companies use to clean their equipment between client visits. This can help prevent the spread of invasive plants among neighborhoods.
When a plant is very well established, the safe use of regulated herbicides is often the most practical method to remove an invasive plant population. When using any herbicide, pesticide or lawn chemical, it is essential to carefully read and follow the label instructions. Make sure the correct chemical is applied in the correct amount and is intended for the plant to be removed. When handling chemicals, be sure to wear appropriate protective equipment such as closed toe shoes, gloves and safety glasses.
One such invasive plant of interest to Fairfax County urban foresters is the Tree-of-Heaven (Ailanthus altissima). Sightings of these trees in the county, whether on private or public property, should be reported to the Urban Forest Management Division by calling the Urban Forester of the Day at 703-324-1770, TTY 711 or by emailing TreeMail@FairfaxCounty.gov.
This fast-growing tree is best removed while young by cutting the stem and painting herbicide on the cut. In the case of a larger tree, it may be controlled by a method known as frilling, or 'hack-and-squirt'. In this method, wounds are made by slashing the trunk with a machete or hatchet and then applying herbicide to the cuts. A certified arborist should be consulted for removal if a large tree is located near any structures, sidewalks, play areas or any location that a falling tree could damage. For more information contact the Urban Forester of the Day during regular business hours at 703-324-1770, TTY 711 or treemail@fairfaxcounty.gov.