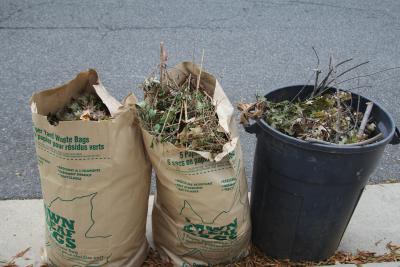 Joining several neighboring communities in the D.C. Metro Area that have banned the use of plastic bags for yard waste, the Fairfax County Board of Supervisors on Tuesday amended the county's Solid Waste Management ordinance, which now prohibits the use of plastic bags for set out and collection of yard waste.
The change takes effect on Monday, March 1 and will require county residents who have curbside collection of yard waste to use reusable containers or paper yard waste bags to set out grass, leaves and brush. Although the new rule takes effect March 1, the Solid Waste Management Program will be exercising enforcement discretion for a six-week period to allow time for customer notification and education on the new rule. Enforcement will begin Monday, April 19, 2021.
It has been noted that pieces of plastic bags, shredded during the composting process, end up being re-introduced into the environment when the compost is applied in gardens, yards, and other similar projects. Prohibiting plastic bags removes plastic pollution from the yard waste being made into compost.
A number of environmental and conservation organizations, including the Audubon Naturalist Society, 350Fairfax, and the Faith Alliance for Climate Solutions have voiced their support of the change.
"Eliminating single-use plastic bags that otherwise get shredded and mixed into compost, contaminating our soils, water, and eventually us, just makes sense. We concur with the Board's decision to make this change, and we're glad to see Fairfax County finally joining its neighbors in the region to do this," said Renee Grebe, Northern Virginia Conservation Advocate with the Audubon Naturalist Society.
Results from a study conducted in 2019 show approximately 50 percent of residents already have stopped using plastic bags for yard waste. Plastic bags set out at residences after April 19 may be left uncollected.
Residents also can deliver their yard waste to the I-95 Landfill Complex and the I-66 Transfer Station. At those locations yard waste in paper bags or reusable containers will be accepted. As of April 19, 2021, yard waste in plastic bags delivered to the I-66 Transfer Station or the I-95 Landfill will be rejected. Commercial yard waste loads containing plastic bags delivered after April 19, 2021 will be subject to a penalty fee of $100/ton.