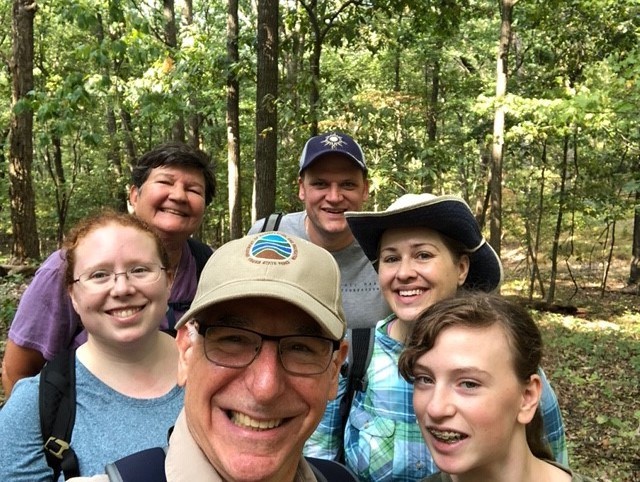 Urban foresters were invited to participate in National Public Lands Day on Sept 28 to assist the Virginia Department of Conservation and Recreation (DCR) to identify living ash trees in Sky Meadows State Park in the Blue Ridge Mountains, near Paris, VA.
National Public Lands Day is a celebration of places of public access for everyone to enjoy the abundant natural beauty in the United States.
A master naturalist and a DCR coordinator created a project based on an idea to help conserve the ash trees in the park. "To accomplish this, they needed to know how many ash trees they had and their condition," said Rachel Griesmer, Urban Forester II, Urban Forest Management Division, Fairfax County.
The accidental introduction of the Emerald Ash Borer (EAB) to the US has decimated large patches of a once thriving ash tree population, but live ash trees can be found at Sky Meadows State Park.
"Their goal on National Public Lands Day, was to hike the trails to mark living ash trees and assess their health," Griesmer said.
The event was open to the public as a service opportunity. Experienced leaders were needed to identify green ash, white ash and black ash trees. The volunteers were asked to focus primarily on marking the remaining, living ash trees.
"Based on information developed by a Virginia Master Naturalist, four hikes were organized through areas where ash trees were once found," Griesmer said.
The hikes were guided by knowledgeable leaders who identified the living ash trees while volunteers assisted by marking the trees with labels and a GPS device. Volunteers also recorded data and took photos.
"I joined the hike for the Lost Mountain Trail along with one DCR staff member and five volunteers from Recreational Equipment, Inc. (REI)," Griesmer said. "We identified about ten trees along the trail that were in good enough condition to be treated with insecticide to kill the emerald ash borer." The group assessed, logged and marked those trees with a tag and paint to allow park staff to identify them for future management. They also identified several clumps of large, dead ash trees that may have posed a threat to hikers on the trail. Dead ash tree limbs become very brittle and are subject to catastrophic failure that may cause injury, property damage or death to people using the trails.