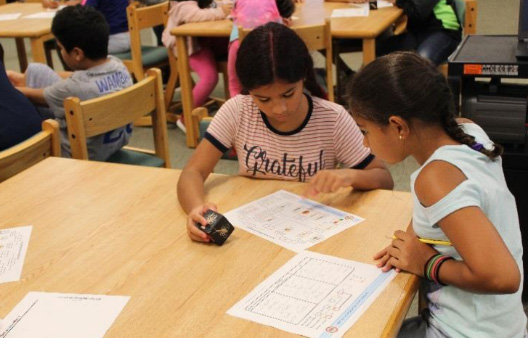 The Virginia Association of Counties (VACo) selected Fairfax County's Stream Critter Cube Lab for a 2019 Achievement Award in the Best Large County Achievement category. This new lab was created by employees of the Watershed Education and Outreach Section, Department of Public Works and Environmental Services (DPWES), for use in Fairfax County Public Schools. The awards recognize excellence in local government programs.
The Stream Critter Cube Lab connects students with freshwater ecologists to learn how local scientists determine stream ecosystem health through monitoring the diversity of life found in each stream. The lab brings a "stream into the classroom" and introduces students to stormwater and stream monitoring through an interactive dice game. By rolling the dice, students collect a random sample of benthic macroinvertebrates, record their data, interpret results, and determine the overall quality of the stream.
"We are so honored to be one of the winners of this year's VACo awards," said Danielle Wynne, Ecologist IV, Stormwater Planning Division, DPWES. "Programs like these enable us to work with students across the county and make science approachable and fun. Our mission is to increase environmental awareness and help reduce negative impacts on water quality. We think this lab helps us fulfill that goal."
"This is the 17th year of the Achievement Awards, and we could not be more proud of the innovative work done by our member counties," said VACo Executive Director Dean Lynch. "These outstanding programs show how much Virginia counties care for their communities and their residents." There were 96 entries to this year's awards program and only 26 winners.
VACo is the voice of the Commonwealth's counties and exists to support county officials and to effectively represent, promote and protect the interests of counties to better serve the people of Virginia.