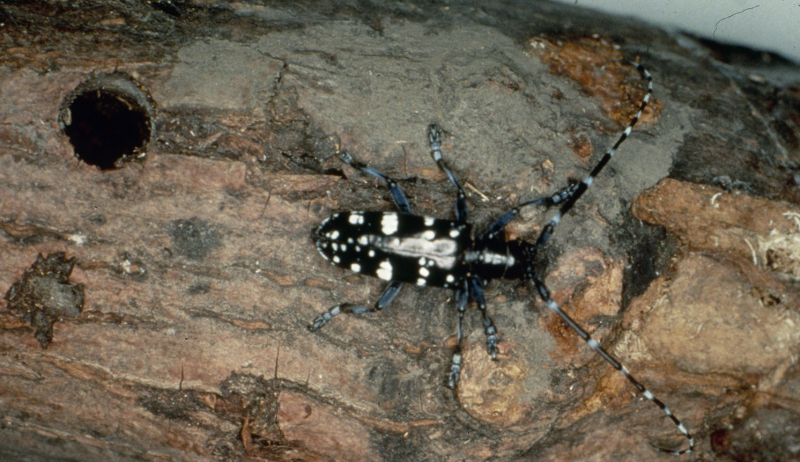 The Asian longhorned beetle (ALB) is an invasive, exotic insect that most likely arrived in the United States on packing material from Asia. It is one of the most destructive insects known to exist in several areas of the country but not in Fairfax County yet.
This beetle (Anoplophora glabripennis) has blue feet, a black body and white spots on its back. ALB is a threat to many of America's hardwood trees, especially maples, and has no natural predators in the U.S.
With no means of eliminating ALB, early identification and eradication are critical to control its spread.
"Thus far, ALB has been found in the New York City metro area, Chicago, New Jersey, Toronto, Worcester, Mass., and most recently in Hollywood, S.C.," said Joan Allen, Chief, Forest Pest Branch, Urban Forest Management Division (UFMD), "where it was found by a homeowner who reported it to a state agency," Allen said.
Normally, this is how ALB is discovered in communities – by alert residents who regularly check trees in their yard or neighborhood – a practice that is recommended by Fairfax County urban foresters.
"We are very aware of this potential threat to the urban forest in Fairfax County and we are alerting the public to keep their eyes peeled for this beetle," Allen said. "The Fairfax County NewsCenter just updated their public information about ALB, and UFMD and TV 16 collaborated to create a video, which is airing on 16 Around Fairfax and has been posted to YouTube."
ALB has the potential to destroy millions of acres of hardwood forests and residential landscape trees. The trees most at risk are several types of maples, the American elm, horse chestnut and willow trees and poplar trees, among others. This is a large beetle with adults about 3/4 to 1 ¼ inches long with striped antennae that can be longer than their body. Adults are present from July to October but can be found later in the fall if temperatures are warm. The female beetle usually lays 35 to 90 eggs during her lifetime. The eggs hatch in ten to 15 days. The larvae feed under the bark in the living tissue of the tree and prevent water and nourishment from being absorbed by the tree.
"The larvae then bore deep into the tree where they pupate," Allen said. The adults emerge by boring a tunnel in the wood and creating a round exit hole about the size of a dime. At that point, the adult Asian longhorned beetle may move on and attack another tree. Once a tree is infested with ALB, it may take several years to notice the signs or symptoms, but the infested tree will harbor more and more insects until the tree dies. "The only effective method that is used to eliminate ALB is to remove infested trees and destroy them by chipping or burning," she said.
What can county residents do to prevent the spread of the Asian longhorned beetle?
"Check your trees on a regular basis. August is Tree Check Month, and we recommend this practice," Allen said. When checking trees look for oozing sap, an accumulation of coarse sawdust around the base of trees, and uniformly round holes that are about 3/8th of an inch in diameter on the trunk or branches.
"Please do not move firewood from one location to another. Burn it where you buy it," Allen said.
If a resident sees an Asian longhorned beetle, try to capture it in a jar or a plastic bag and store it in the freezer. Take its picture and email the picture and the location where the beetle was found to pestmail@fairfaxcounty.gov or report your finding by calling the Urban Forester of the Day at 703-324-1770, TTY 711.
"We really appreciate residents who keep their eyes peeled, looking for the Asian longhorned beetle. If you see any of the signs mentioned above, please call or email us," Allen said.