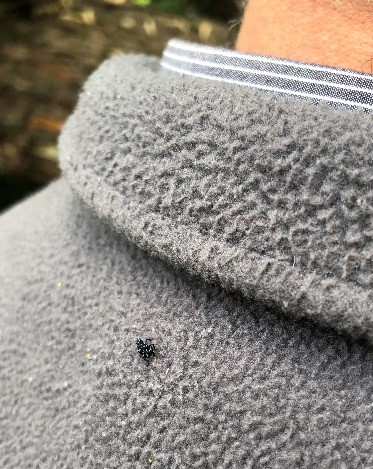 "Whatever you may collect during your camping or Labor Day trips this fall, make sure it isn't an invasive insect that can flourish in Fairfax County and kill trees," said Joan Allen, Chief, Forest Pest Branch, Urban Forest Management Division (UFMD).
One example of a very destructive tree pest is the spotted lanternfly. It's an exotic insect from East Asia that arrived in the U.S. in 2014 and now has established populations in Delaware, Maryland, Pennsylvania and parts of Virginia - but not in Fairfax County, yet.
Five East Coast states have quarantines for the spotted lanternfly: Pennsylvania; Delaware; Virginia; New Jersey; and New York. Quarantines are necessary to prevent the spread of this tree-killing insect.
Human activity is usually responsible for the spread of this pest. The lanternfly gets around by hopping or gliding short distances and by hitchhiking rides on outdoor items like furniture, tools, vehicles, grills, mobile homes, wood and plant products, construction materials and equipment, quarry material, wood crates or boxes and tarps and tents, among other items, that we humans move from one area to another, thus spreading spotted lanternflies and their eggs. Quarantines are especially important for businesses as they conduct a good amount of interstate transportation.
County residents can be helpful in preventing the spread of this insect by not bringing bugs of any type home as souvenirs of fall trips, intentionally or unintentionally. Here are ways to prevent the spotted lanternfly from coming to Fairfax County:
Don't move firewood from one area to another
Carefully check vehicles and belongings after visiting quarantined areas
Adhere to quarantine regulations including citizen checklists (below)
Look for egg masses on vehicles, outdoor furniture, pallets, tree bark, firewood, landscaping stone and rusty metal surfaces
Report sightings of spotted lanternfly in Fairfax County to pestmail@fairfaxcounty.gov or 703-324-1770, TTY 711
The Virginia Department of Agriculture recommends these actions in What Citizens Can Do.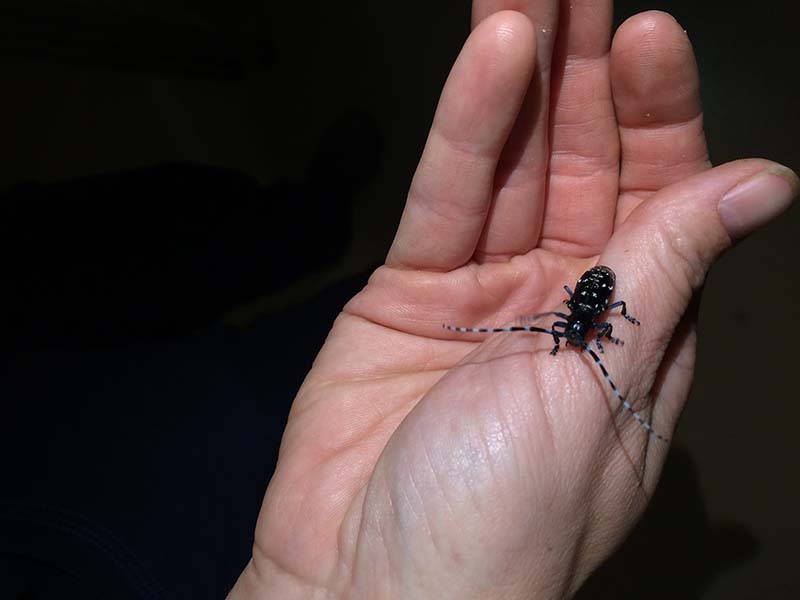 Another equally destructive tree pest is the Asian longhorned beetle (ALB). This is an invasive wood-boring insect that feeds on hardwood trees including maple, birch, elm, ash and poplar, among others. Native to East Asia, the adult beetle is about 1.5 inches long, shiny and black with white spots. Their 'horns' are antennae that can be twice as long as the body of the insect.
In 1996, this pest was found in Brooklyn, New York. It may have hitchhiked a ride into the US in wood packing materials. Other infestations have been found in Manhattan, Queens, Staten Island, Islip and central Long Island. Many of these infestation sites have been eradicated.
"ALB is one of the most serious and destructive tree pests to enter North America," said Joan Allen, Chief, Forest Pest Branch, Urban Forest Management Division. "So far, this insect is not in Fairfax County." As is frequently true of these exotic insects, it has no natural predators to keep the population under control. ALB has the potential to destroy millions of acres of hardwood forests and residential trees.
County urban foresters are keeping their eyes peeled and they ask residents to call or email if they spot an Asian Longhorned Beetle. Capture it in a plastic bag and contact the Urban Forest Management Division at 703-324-1770, TTY 711 or pestmail@fairfaxcounty.gov.
Both of these insects are made mobile through human activity.
"Our message to the public is to be aware of these invasive pests and where they are located. These are tree-killers and it is very important to prevent their spread into new areas. Don't let these insects hitch a ride with you when returning to the area from your fall trips," Allen said.