FAIRFAX COUNTY, Va. - It has been a week filled with acknowledgements and recognition for the Department of Public Works and Environmental Services (DPWES).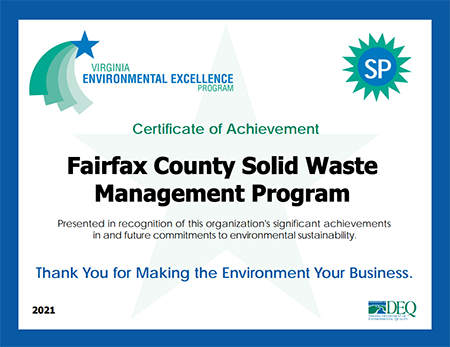 The Solid Waste Management Program (SWMP) received a letter and certificate from the Virginia Department of Environmental Quality (DEQ) approving its acceptance as a Virginia Environmental Excellence Program Sustainability Partner (VEEP SP) for calendar year 2022. The VEEP program encourages organizations to go beyond what is legally required to foster sustainability. The DEQ recognizes organizations making environmental sustainability part of their culture through leadership, innovation, and continual improvement.
"Being a Sustainability Partner in the VEEP is a great honor and we are proud of our team and all the hard work being done to provide trash and recycling services to our community. It's awesome to be part of a team that pushes innovation and is striving to provide high quality service with a focus on environmental stewardship," said Eric Forbes, director of Engineering and Environmental Compliance Division, SWMP.
The approval was granted based on several significant environmental achievements the SWMP has made, including its strategic partnership with Prince William and Arlington counties and the City of Alexandria to recover and recycle glass, and its work with a gas engine plant to generate electricity for sale back to the grid from the I-95 Landfill Complex, which produced enough energy in 2020 to power 1,800 households.
The DEQ also recognized the sustainability goals SWMP has outlined for the future.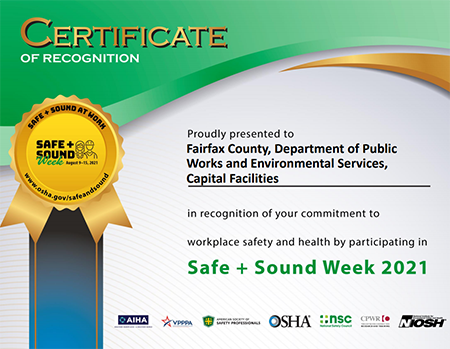 Capital Facilities (CAP) this week received a certificate of recognition from the Occupational Safety and Health Administration (OSHA) for its participation in Safe + Sound Week 2021, which takes place annually from August 9-15. OSHA recognizes agencies that promote safety and adhere to OSHA regulations and standards.
"Earning this certificate means we worked hard to comply with the rules and regulations set up by OHSA. All CAP employees went home every workday in 2021 and they were Safe + Sound," said Carey Needham, Deputy Director, DPWES, Capital Facilities.
Safe + Sound Week is part of the larger Safe + Sound Campaign that encourages safety in the workplace year-round.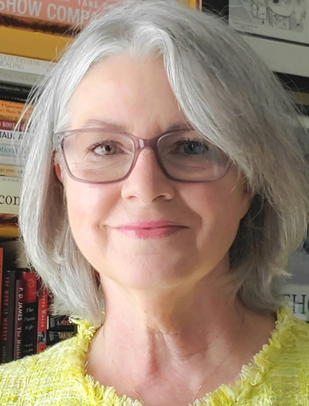 Fairfax County Surveyor Vickie McEntire Anglin received notification she has been appointed by Governor Ralph Northam to a four-year term on the Board for Architects, Professional Engineers, Land Surveyors, Certified Interior Designers and Landscape Architects (APELSCIDLA Board). This is Anglin's first full term on the board, having previously completed the term of a retiring board member. The APELSCIDLA Board examines, licenses, and regulates approximately 35,000 individuals and related business entities in the Commonwealth. It operates under the Virginia Department of Professional and Occupational Regulation.
Anglin oversees the Land Survey Branch in the Utilities Design and Construction Division (UDCD) in Capital Facilities (CAP) with DPWES.