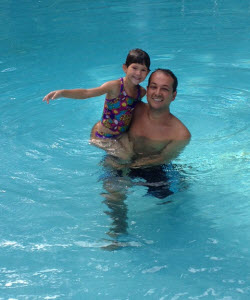 Draining swimming pool water incorrectly may harm aquatic life, flood neighboring properties and violate the Stormwater Management Ordinance, Chapter 124, Article 9, of the Fairfax County Code. This includes drainage from above ground pools.
Swimming pool water that was chlorinated or brominated may be drained (discharged) to a storm drain or a stream after taking these steps:
Remove the chlorine or bromine by allowing it to dissipate or by adding a chemical agent. Allow pool water to sit for seven to ten days for chlorine or bromine to dissipate. Sodium thiosulfate may be used to remove chlorine more quickly. Before discharge, test the pool water to ensure the total residual chlorine or total residual bromine level is less than 0.1 mg/L
Test the water to ensure the pH level is between 6.0 and 8.0. Adjust the pH to achieve an acceptable level
Ensure the water is clear and free of algae, sediment, sticks, leaves or other pollutants
Drain the dechlorinated (or de-brominated) water before adding products to winterize the pool
Drain the water over pervious, well-vegetated ground on the owner's property, if possible. Avoid draining pool water directly into a storm drain or a stream except as a last resort. Avoid draining pool water across neighboring properties; do not create puddles, standing water or ice
Ensure that filter backwash is free of chlorine or bromine, sediment and scum and that it has an acceptable pH level before discharging to storm drains or streams. If it is not possible to remove chlorine or bromine, small amounts of backwash water may be discharged to the public sanitary sewer system through a household drain.

Call Wastewater Management at 703-550-9740, ext. 252, TTY 711, before discharging backwash to the public sanitary sewer system
There are options for draining salt water pools that may not be discharged to a storm drain or a stream.
More information is available about Illicit Discharge and Improper Disposal (IDID) or call the team of ecologists and inspectors in the Stormwater Planning Division of Public Works and Environmental Services at 703-324-5500, TTY 711. These employees respond to observations or concerns from the public who may report polluted stormwater runoff or illicit discharges in the stormwater drainage system.
The county is required to prevent pollution from entering the Municipal Separate Storm Sewer System (MS4) and to administer the MS4 permit.