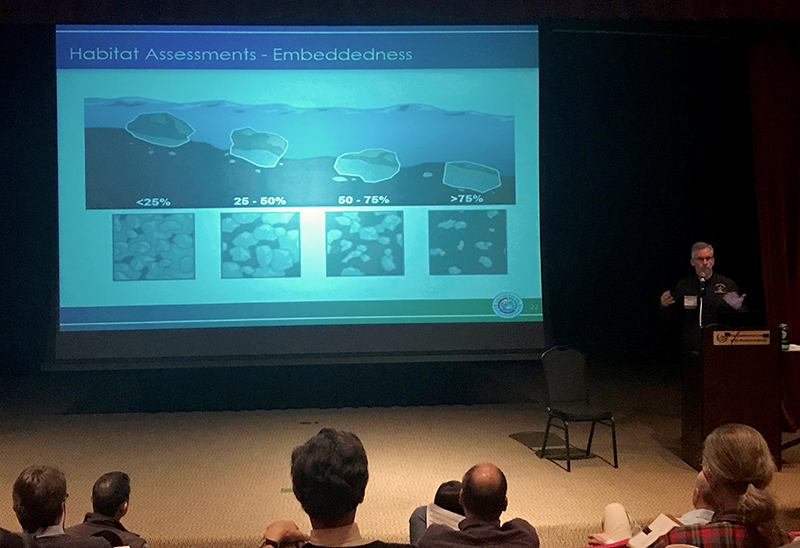 On Friday, December 7, ecologist Chris Ruck, Stormwater Planning Division, presented at the Maryland Water Monitoring Council Conference in Linthicum, Maryland. The theme of the conference was "Science, Stewardship and Citizen Involvement – Working Together for Clean Water." Attendees included water quality monitoring experts, stream restoration professionals, non-profits, educators, and students.
Fairfax County has more than 800 miles of streams flowing through its 30 main watersheds. Storm drains convey rain and other substances from lawns, parking lots, and streets directly to these streams. Stream restoration projects typically use natural channel design principles to repair stream banks, reduce erosion, protect property, improve habitat, and improve water quality.
During the "From Restoration to Recovery – Stream Restoration Monitoring" session, Ruck discussed the stream restoration process, the collaboration between engineers and ecologists, some results from post-restoration monitoring, and goals for the future.
The Department of Public Works and Environmental Services has completed 36 stream restoration projects and has 35 more planned or in construction. More than nine miles of streams have been restored since 2010, more than five miles are in construction, another 1.2 miles are planned for construction in fiscal year 2019 (July 1, 2018 to June 30, 2019), and 13.3 miles are in the design phase for fiscal year 2020 and beyond.  Stream restoration projects are funded through the Stormwater Tax District.
To receive more stories from the Department of Public Works and Environmental Services, subscribe to the Sustainable Communities e-newsletter.