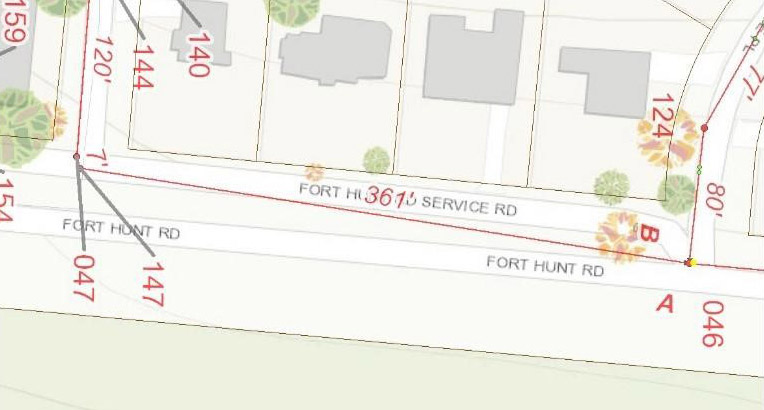 Updated: Tuesday, April 27, 2021
The project is needed to repair a damaged sanitary sewer pipe.
Project description:
Installation of roughly 350-feet of sanitary sewer
Installation of five new manholes
In-place abandonment of roughly 350-feet of sanitary sewer
Two sanitary sewer service line reconnections
Road closures as outlined on the map
The contractor installed roughly 230 feet of the planned 350 feet of sewer pipe. The scheduled completion date is June 2021.
Construction commencing update:
Filppo Construction Company is the contractor who will perform the work. There will be a full-time inspector from the Dewberry engineering firm on-site to oversee the construction. As shown on the map, there will be a temporary road closure on Edgehill Drive and Fort Hunt Service Road. The county will phase the road closures to limit the impact during construction but residents should expect detours and occasional impacts to street parking and trash/recycling pickup on the two properties on Fort Hunt Service Road. These occasional impacts will be coordinated directly with the affected property owners. The contractor will maintain access at all times to the residential driveways adjacent to the road closures. Any necessary interruptions to sanitary sewer service will be coordinated with the affected property owners in advance.
Updated: Thursday, June 11, 2020
On Friday, June 5, 2020, a broken sanitary sewer line and other damaged infrastructure were identified by county staff during a wastewater pipe inspection at the intersection of Fort Hunt Road and Hunting Cove Place in the Alexandria section of Fairfax County.
This area of Fairfax County was deemed appropriate to proactively inspect due to results from the county's enhanced risk management approach that attempts to prevent problems before they become apparent.
As of Tuesday, June 9 at 9 a.m. there has been no disruption of service to residents.
Public works employees visited homes near the project on June 8

discussed the project with residents and provided contact information
a letter to the community is being prepared

A water valve and a wastewater line were broken

Fairfax Water Authority has been alerted; they are working to repair the broken water valve
County engineers and contractors are on site planning the repair of the sanitary sewer line

A cleaning nozzle that was trapped in the line has been removed
A survey crew will be on site on Friday, June 12, 2020
For more information, email Project Manager Chris Mata or call 571-595-4254 or 703-324-5983, TTY 711.