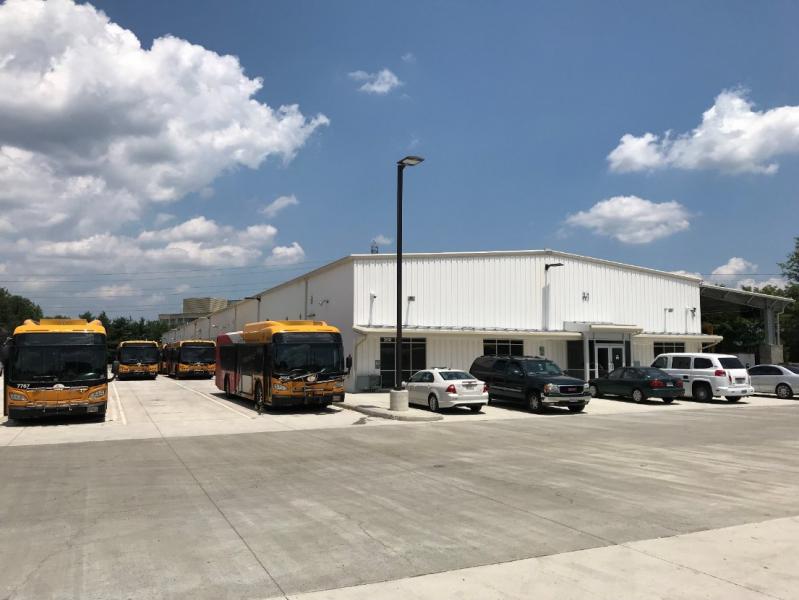 The project to renovate the Fairfax Connector Reston-Herndon Bus Operating Facility, located at 268 Spring Street, Herndon, Va., was substantially completed on July 27, 2018. The $12,633,300 project was undertaken to improve the efficiency of the facility where 80 Fairfax Connector buses are maintained and repaired. To allow operations to continue uninterrupted, the building was renovated in phases. Staff now have a working environment that is safer, more efficient, and more comfortable than before.
This project was managed by the Department of Public Works and Environmental Services. The renovated facility was designed by Michael Baker International, Inc. S3E Klingemann, Inc. was the mechanical, electrical, and plumbing engineer. Woods Peacock was the structural engineering firm, and BC Consultants was the civil engineering firm. The general contractor was Branch & Associates, Inc.
Renovation Highlights:
An existing open bay was enclosed to create a new drive-through bus wash.
A small addition was constructed for exterior tire storage.
Vehicle lifts and service equipment were upgraded.
An automated parts storage system was created.
The drivers lounge and administration areas were modernized.
A new covered fueling station was added.
The bus parking lot surface was replaced with new heavy-duty concrete.
A new parking lot was added for staff.
A new restroom was constructed.
The renovation project was funded by the Northern Virginia Transit Committee State Aid and the voter-approved 2007 bond referendum. The Reston-Herndon facility renovations follow improvement projects completed at the Huntington and West Ox Bus Operations facilities.
For more information, contact the Department of Public Works and Environmental Services, Capital Facilities, at 703-324-5800.