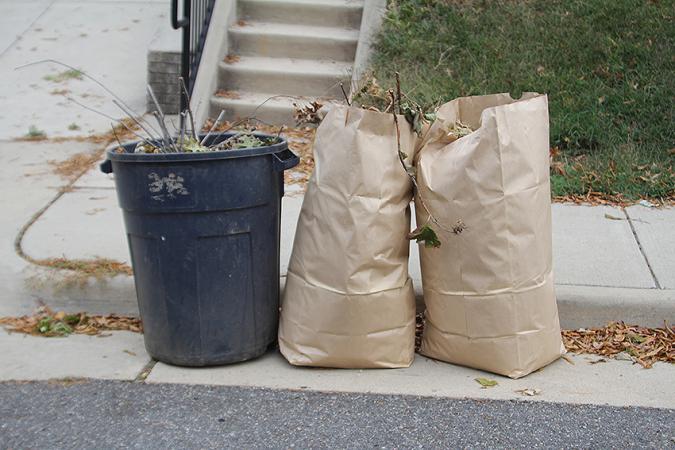 This spring Fairfax County will begin phasing out the use of plastic bags for yard waste collection. This decision aligns with the county's environmental vision and was made to reduce the amount of plastic in our natural environment. The change applies to private collection companies' customers (90 percent of the county) as well as residents living in the county's solid waste collection areas. With this change, Fairfax County joins seven neighboring jurisdictions in the Washington, D.C. Metro Area that already discourage or prohibit the use of plastic bags for yard waste. 
"Plastic pollution is a big problem for our natural environment," said Eric Forbes, director of engineering and environmental compliance, Fairfax County Solid Waste Management Program. "This change will help eliminate a known source of plastic from entering our environment. By next winter we think everyone will have learned of the change and joined the many residents who have already switched to more environmentally friendly paper bags or reusable containers." 
Fairfax County's yard waste collection season runs from March through December. When yard waste – brush, leaves, and grass – is processed into compost, small pieces of shredded plastic end up in the organic material applied in gardens, yards, and capital improvement projects. Even the best screening systems don't remove all the plastic shreds.
A survey conducted last summer found that 30 percent of residents have already stopped using plastic bags for yard waste. Instead of plastic bags, residents should use compostable paper bags or a rigid container clearly marked yard waste. Other options include composting and mulching at home and grasscycling (leaving mowed grass clippings on the lawn). 
Leaves should not be blown into the woods or dumped on parkland, and leaves should not be blown into the street unless the residence is served by vacuum leaf collection. Unused plastic bags can be used as trashcan liners. 
Accepted yard waste includes grass clippings, leaves, straw, brush, small prunings, branches, and flowers. Unaccepted material includes tree stumps, food waste, lumber, treated wood, pallets, sawdust, dirt, mulch, and sod.
The change in how yard waste is set out for curbside collection is considered an administrative action as allowed by Sections 109.1-1-3(b) and (d) and 109.1-2-1 of the County Code. The Solid Waste Management Program anticipates that the 2020 yard waste season will be a transition period for residents and businesses to adjust to the change.  The SMWP will work with the community and private hauling companies on the transition. A formal code change will be considered by the Board of Supervisors at a later date. 
For more information, visit Transition from Plastic Bags for Yard Waste Collection FAQs.
Please send questions or concerns to recycling@fairfaxcounty.gov, or call 703-324-5230.