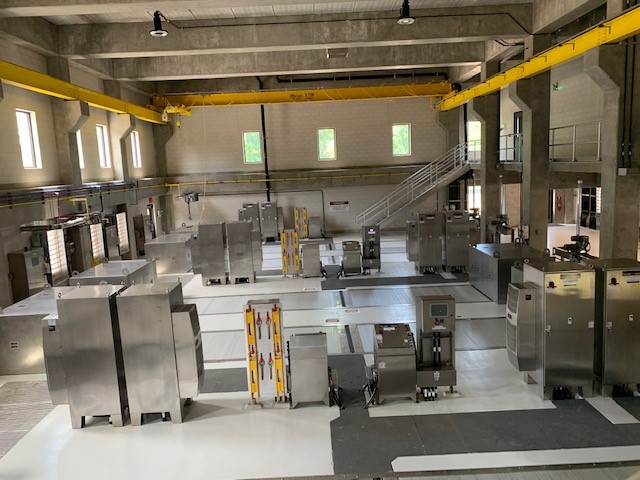 FAIRFAX COUNTY, Va. – A new process designed to disinfect treated wastewater using ultraviolet lights (UV) is now operating at the Noman M. Cole, Jr. Pollution Control Plant in Lorton. The UV process will replace the existing chemical (sodium hypochlorite) disinfection system. The project resulted in the first Institute for Sustainable Infrastructure Envision Gold Award achieved by Fairfax County. The county currently leads the state in Envision awards.
Members of the media are invited to tour the state-of-the-art facility on Monday, November 15 from 11 a.m. to -1 p.m. Please RSVP to Sharon.North@fairfaxcounty.gov by 9 a.m. the day of the tour to confirm your attendance. COVID restrictions will be in place throughout the tour.
The UV process is a physical disinfection system which generates photons that penetrate microbial DNA to deactivate them and leave them unable to reproduce. The new $87 million UV disinfection facilities are capable of processing 67 million gallons per day, with a peak disinfection flow of 133 million gallons per day.
Replacing the aging sodium hypochlorite system will save the county approximately $750,000 annually in chemical costs and eliminating 200 yearly tanker truck deliveries. In addition, operating the prior chemical system eventually would have made it difficult to comply with the Virginia Sewage Collection and Treatment (VSCAT) regulations for disinfection at high flows. Abandoning a large pump station associated with the old disinfection system saves about 846,000kWH of energy per year, saving greenhouse gas emissions equivalent to removing 100 cars from our roadways.
This UV disinfection project was designed according to the Envision framework. To earn an Envision rating, a project must deliver a heightened range of environmental, social, and economic benefits to the host and affected communities. The rating must be validated through a rigorous third-party review process against the Envision sustainable infrastructure framework and rating system. Several aspects of the project attributed to its sustainable success, including project team collaboration through alternative project delivery, stakeholder involvement, plant-wide sustainable initiatives, prioritization of worker health and safety, and reduction in chemical and energy use.
Click UV Plant photos to enlarge