Fairfax County, Va. – County residents interested in composting food scraps will now have several additional convenient drop-off locations. The Department of Public Works and Environmental Services (DPWES) and the Fairfax County Park Authority (FCPA) have been working together to get the Farmers Market Composting pilot program expanded.
Beginning Wednesday, June 23 the program will be implemented at farmers markets in four county districts: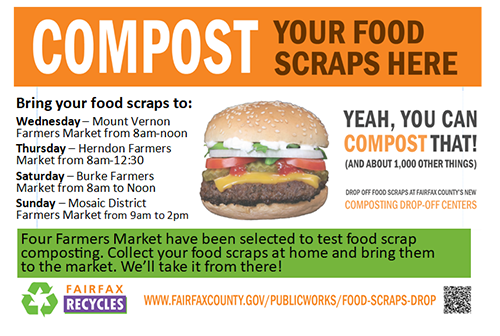 Wednesday | 8 a.m. to noon | April 21 thru December 22
Mount Vernon Farmers Market  
2501 Sherwood Hall Lane
Alexandria, VA, 22306
Thursday | 8 a.m. to 12:30 p.m. | April 22 thru November 4 
Herndon Farmers Market
765 Lynn St.
Herndon, VA, 20170
Saturday | 8 a.m. to noon | April 10 thru December 18
Burke Farmers Market
5671 Roberts Parkway
Burke, VA, 22015
Sunday | 9 a.m. to 2 p.m. | year around  
Mosaic District Farmers Market (operated by FRESHFARM)
2910 District Ave
Fairfax, VA 22031
The pilot program launched in November 2020 at the I-66 Transfer Station and the I-95 Landfill Complex. The Board of Supervisors asked DPWES to determine how to expand the program to also include farmers markets as the pilot continues.
Farmers Market Composting provides a convenient solution to keep food out of the waste stream. Food scrap composting diverts our food waste, to a beneficial use. When we compost organic waste, it is used as a natural fertilizer or soil amendment, where the nutrients are put back into the soil.
Food scraps drop off is available only during regular market hours. Please verify market hours before heading out to drop off your food scraps. Do not drop off scraps when the market is closed.