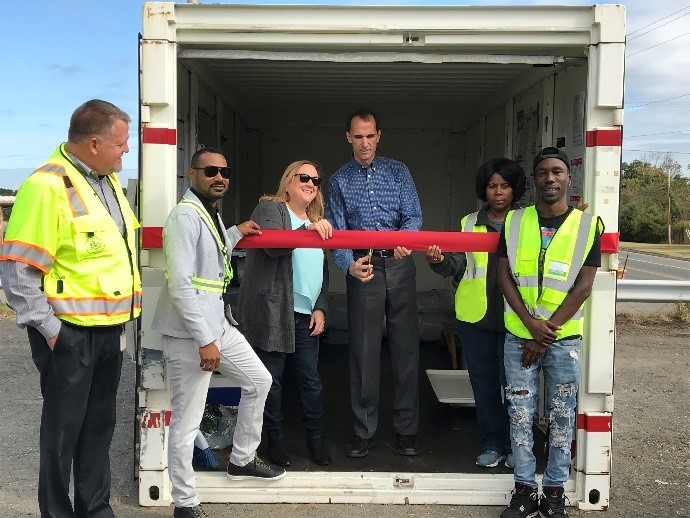 A brief ceremony was held October 9, 2019, to celebrate the availability of a new Donation Station at the I-95 landfill complex in Lorton, Va. The new donation box, provided through a partnership with TVI/Savers, accepts used clothing and household goods.
A second Donation Station is available at the I-66 transfer station in Fairfax, Va. Both locations are open seven days a week, from 8 a.m. to 4 pm.
Donation Stations provide another option for residents to divert material from the waste-to-energy plant and landfills. Reducing waste by repurposing unwanted but usable goods is an important part of the county's integrated waste management strategy.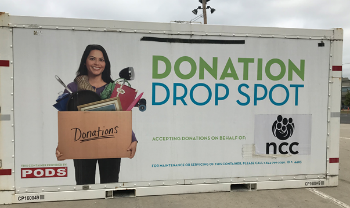 Attendants at the Donation Stations help residents unload items and provide a receipt for the donations. The collected items are prepared for sale in local thrift shops. Textiles that are no longer serviceable are recycled into carpet, upholstery, and other uses. Residents with unaccepted items can dispose of them in a different area of the site.
Accepted items include:
Clothing, shoes, hats, outwear and accessories
Toys and games
Books
Records and CDs
Household items, such as toaster, glassware, dishes, and cookware
Donation Stations do not accept:
Car seats, cribs, playpens
Bike helmets
Food, plants, pets
Lawnmowers, swing sets
Things that are broken or missing pieces
Electronics
Propane or fuel containers
Weapons
The Savers family of stores is a for-profit, global thrift retailer offering gently used clothing, accessories, and household goods. Their Rethink Reuse® business model of purchasing, reselling, and recycling gives communities a smart way to shop and keeps more than 700 million pounds of used goods out of the waste stream. They also help more than 100 nonprofit organizations by purchasing donated goods from them, which provides a source of revenue to help support their vital community programs and services. Locally, they operate Unique in Merrifield.