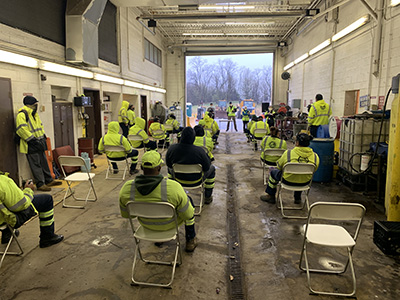 Fairfax County, Va. – A series of employee forums designed to educate and inform Department of Public Works and Environmental Services employees (DPWES) are being facilitated by DPWES and the Fairfax County Health Department (FCHD) so workers can make informed decisions ahead of getting vaccinated, or choosing not to, as well as learning about prevention measures and how to access information if they live outside of Fairfax County.
The first session took place this past Wednesday at the I-95 Complex in Lorton. The remaining ones are scheduled at various locations through April 5.
The forums are being implemented through a long-standing partnership between DPWES and the Fairfax County Health Department. The agencies work together on a variety of issues, including health related environmental impacts, wastewater collection and treatment, disease outbreak impact issues potentially affecting DPWES staff and the public (Ebola, ZIKA, COVID, etc.), and health related hazardous chemicals, and fire and stormwater conveyance issues.
Since the onset of COVID, DPWES and FCHD have worked in concert to make sure employees are informed and aware of how best to address their concerns, COVID case updates, employee vaccine updates and screening, COVID policy and the scheduled outreach events. The FCHD also has provided DPWES with guidance on hygiene, employee COVID concerns, temperature screening, required PPE, staffing to mitigate disease transmission and office equipment and facility operations and set-up.
While the sessions are just beginning, they have been in various planning stages for a while. In the early stages of vaccine availability there were discussions at a Safety Council meeting about implementing learning sessions. Employees were clamoring for more details and information. An earlier forum was held at the Noman M. Cole, Jr. Pollution Control Plant for frontline staff following a COVID site visit there by FCHD. The current sessions are modeled after that gathering.
The Safety Council is in the process of scheduling a virtual meeting for teleworking employees that will be facilitated by an FCHD employee who will answer questions and address matters such as prevention concerns.