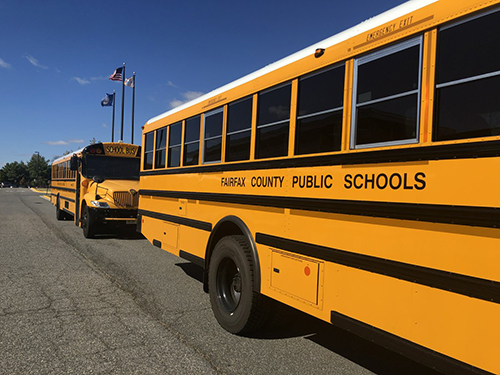 As students begin to head back to school, parents, faculty and students should discuss and implement waste prevention practices on campus while encouraging reuse, recycling and composting programs. Here are tips parents, faculty and students can use to help reduce waste this school year.
1. Explore ways to reduce waste at school with FCPS Get2Green Program
Get2Green is the environmental stewardship program for FCPS. Get2Green supports both division-level and school-based sustainability work. Waste reduction programs such as composting or food sharing are popular in schools, so explore Get2Green's resources to help your school get started.
Learn how to get involved with FCPS Get2Green
2. Consider taking a field trip to a DPWES waste facility to learn about waste prevention
Fairfax County residents and business generated 625,275 tons of refuse and diverted 461,412 tons of recyclables and organics from disposal. Students can take a tour of the I-66 Transfer Station or I-95 Landfill complex, which includes trash, brush grinding, hazardous waste collection and a recycling drop-off center. Call the facilities to arrange a visit. Please note tours are scheduled dependent on staff availability.
Learn more about DPWES Education and Outreach Opportunities
3. Establish Parent Teachers Association positions to help support waste prevention, recycling and compost programs
By creating an avenue for parents, faculty and students to discuss waste prevention, it empowers them to identify and implement solutions to waste on campus. It also welcomes conversations regarding cost savings and environmental benefits that may help support programs and initiatives on campus.
Advocate for Waste Prevention Programs in your School
4. Consider investing in durable and reusable lunchboxes, containers and water bottles to send with kids to school
More than 635 billion single-use plastic bags, bottles and cups are thrown away each year. By encouraging the use of reusable water bottles and lunchboxes in schools the use of single-use plastics can be reduced significantly. Students should also be encouraged to recycle.
Parents should consider donating old and unwanted school supplies rather than throwing them away.
Learn more about Recycling in Fairfax County
5. Take only what you need from the lunch line and save leftovers for a snack
In a recent Industry Dive report, U.S. schools produce more than half a million tons of food waste annually costing approximately $9.7 million a day to manage. It is said by creating compost instead of throwing out organic materials can reduce waste in landfills by approximately 37%.
Learn more about Composting in Fairfax County
The DPWES Solid Waste Management Program encourages FCPS students to set up monthly "No-Waste Days" this school year with the goal to create as little waste as possible. Just one day of waste prevention and reduction can make a large impact on the Fairfax County community and its schools.