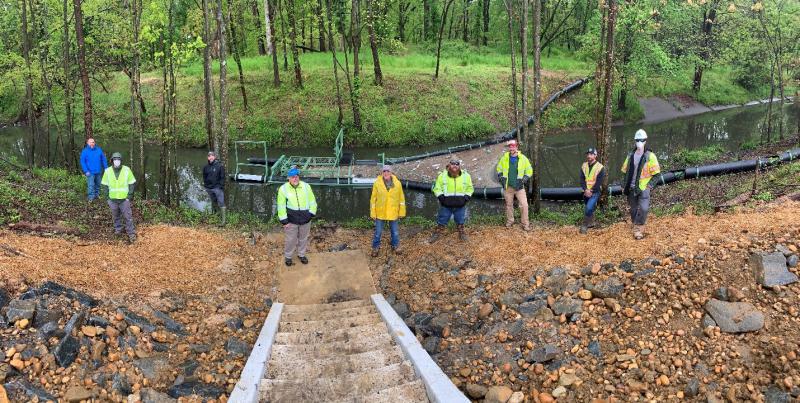 Although stream litter is a problem throughout Fairfax County, Little Hunting Creek has a reputation for being one of the trashiest. For years, volunteer organizations have worked together with county staff to remove litter and debris from the stream located near the Route 1 corridor in the southeastern part of the county. For example, a 2016 watershed cleanup event led by the Friends of Little Hunting Creek collected 423 bags of trash, 29 tires, and 10 shopping carts.
After every rain event, floating litter (mainly plastic bottles) washes down storm drains and into Little Hunting Creek, which feeds into the Potomac River and then flows on toward Chesapeake Bay. The floating litter can come from a variety of sources, such as windblown trash and recyclables on collection days, trash that is placed outside of overflowing bins, illegal dumping, and unintentional or deliberate littering. Wherever the litter originates, much of it ends up in the creek eventually.
To support efforts to reduce litter in Little Hunting Creek, and as part of the county's larger efforts to control litter, this creek was selected as the location for a new floating trash trap, pilot program launched by the Department of Public Works and Environmental Services. In April 2020, a Bandalong floating litter trap was placed in the stream and anchored in place. Bandalong traps have been successful in capturing floating litter for 30 years and, more recently, Washington D.C. and Maryland have used Bandalongs to remove litter from the Anacostia River. During the one-year pilot program, county staff will closely monitor the trap to determine how often the trap must be emptied and establish a regular maintenance schedule. Staff anticipates that large storms will necessitate more frequent unscheduled cleaning visits to remove collected litter.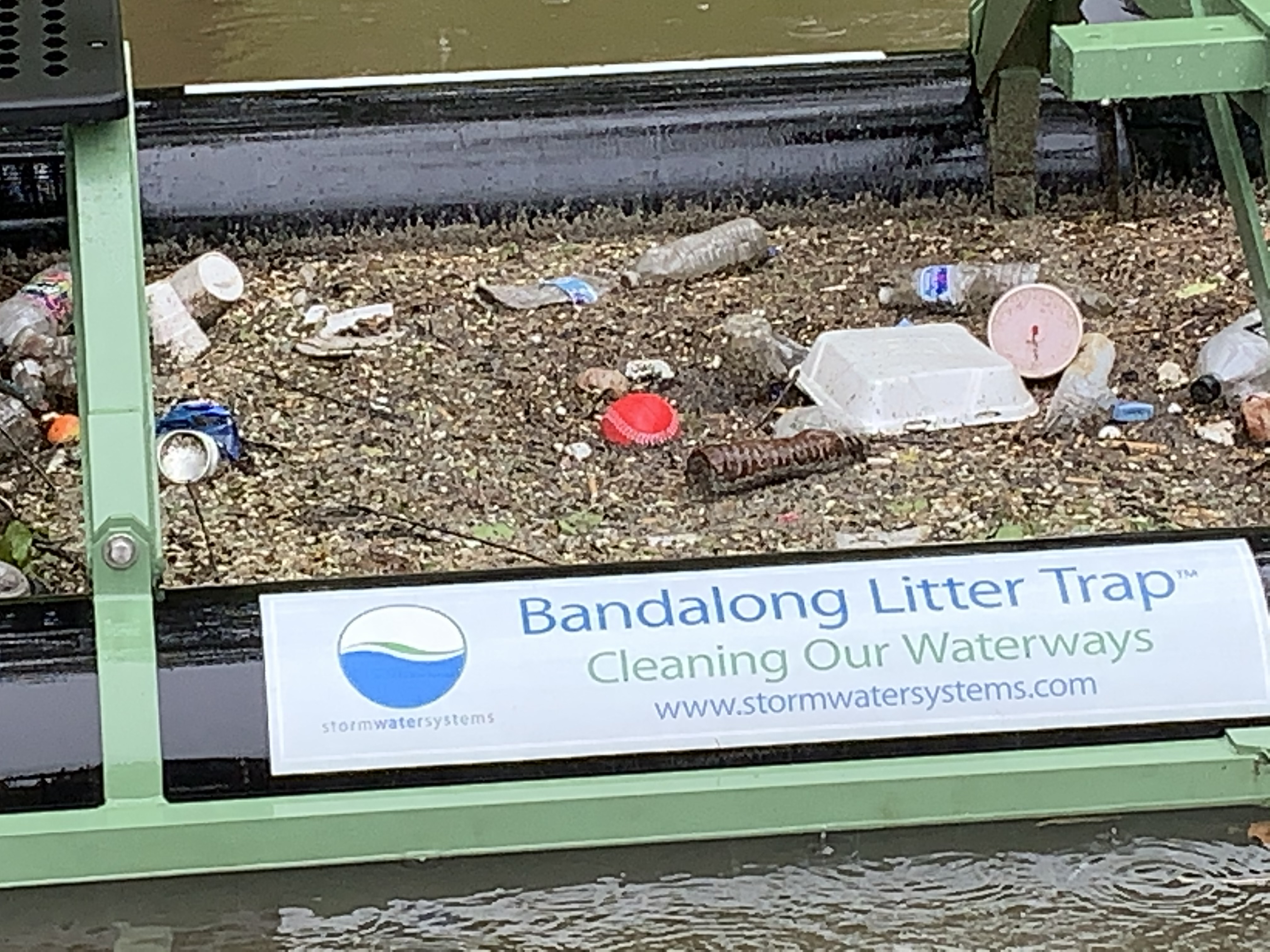 Bandalong litter traps skim floating trash from the surface of the water. It relies on moving water to deliver floating trash and has no moving parts or energy needs. The trap includes floating booms that funnel floating trash into a sturdy, wire basket for easy trash retrieval. The trap rises and falls with the water surface level within the stream channel during storm events. The trap will be emptied periodically and after large rain events. During occasions when the trap becomes full, litter will pile up behind the booms, preventing the litter from flowing downstream. If the stream floods out of its banks during an unusually large storm, there is a chance that some litter may bypass the booms.
The pilot program will evaluate the effectiveness of the trap, the effort needed to maintain it, and the return on investment. The trap itself cost $104,500, and other project costs, such as design, permitting, site access, easements, and construction, totaled $587,000. Routine maintenance costs are estimated at $45,000 annually. The pilot project is funded by Stormwater Service District fees. Currently, no plans exist to install a second trap.
Little Hunting Creek was selected as the site of the pilot program because of known trash problems, but it fits the established criteria of being located near a commercial or industrial location, is not adjacent to homes, and access for construction and maintenance is available. The trap was placed in an area that is difficult to access on foot, with access blocked by a privacy fence. Residents, especially children, are strongly discouraged from visiting or tampering with the trap.
The Bandalong floating litter trap pilot program aligns with Fairfax County's existing litter collection efforts, which are achieved through the coordinated efforts of multiple county agencies, the Park Authority, Fairfax County Public Schools, Virginia Department of Transportation, the sheriff's department, Northern Virginia Soil and Water Conservation District, Clean Fairfax, the Office to Prevent and End Homelessness, and volunteers from other faith-based, civic, and environmental organizations.
If the Bandalong performs as expected, a substantial amount of floating litter will be prevented from reaching the Potomac. However, the reality is that the litter problem is more than just a stormwater management issue. Capturing floating litter in streams only addresses a symptom, not the cause. Addressing the sources of litter requires a coordinated effort from all watershed stakeholders, including local and state governments, elected officials, business owners, non-profit organizations, community groups, schools, and residents. Education, outreach, and broad support for environmental stewardship can help prevent trash from becoming litter in the first place.