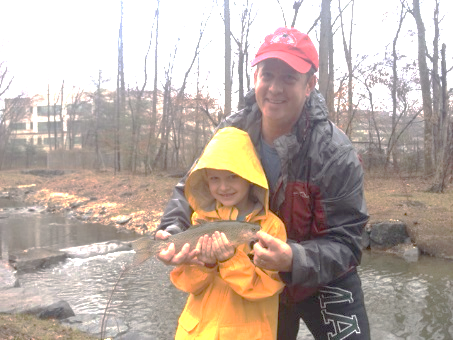 Grab your gear and your little fisher-boy or girl and have a great free fishing day at Flatlick Stream Valley Park in Chantilly on Saturday, April 6, from 9:00 a.m. to 1:00 p.m. A welcome and check-in table will be located by the stream off Placid Lake Court.
The stream will be stocked with rainbow trout. There will be very limited fishing gear available to borrow for this event. Please bring your own. Parking is available along Chantilly Road.
Fairfax County Public Works and the Park Authority have teamed up to create a free fishing day at Flatlick Stream Valley Park to focus on the recent restoration of the stream. This is a big project – almost 12,000 linear feet of the stream will be or has been restored in three phases. The fishing event takes place in the restored area, just south of Route 50.
For details, see the Flatlick Kids Fishing Day Flyer. The event is free but registration is required and open now.
See a Fairfax County video of a previous kids fishing day in Vienna, VA.
The stream restoration goals are:
Restore ecological functions of the stream corridor
Improve water quality by reducing Nitrogen, Phosphorous and Total Suspended Solids
Provide a safe stream channel for the community
Protect private property and public infrastructure
Create in-stream and riparian habitat for wildlife
Reconnect the stream to its floodplain
For questions and more information, contact Project Manager Justin Pistore, or call 703-324-5685, TTY 711.