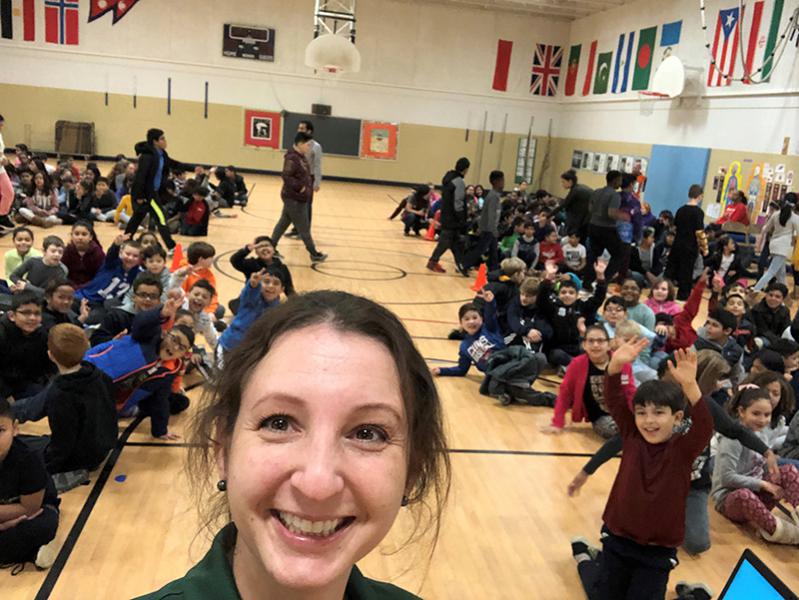 On Friday, November 30, 2018, freshwater ecologist Danielle Wynne spoke to more than 600 students at two assemblies at Rose Hill Elementary School in Alexandria. Wynne, who leads the Watershed Education and Outreach section within the Stormwater Planning Division of Fairfax County's Department of Public Works and Environmental Services, introduced the students to what it means to be a freshwater ecologist and how her team's job is to help tell the story of the county's streams and watersheds.
Elementary school students in Fairfax County Public Schools learn about the importance of streams and watersheds from kindergarten through fifth grade. They learn where water goes and why water is important in kindergarten and first grade. Second and third-graders learn about plant adaptations and study how root systems help with water retention and remediation. Students in fourth and fifth grade learn how humans affect the environment and the impact of plastic on watersheds.
"My presentation bridged the gap between real world science and what the students are learning," said Wynne. "I also like introducing students to the ideas that women are scientists and not all scientists wear lab coats."
Throughout the presentation, Wynne showed the students tools that are used for biological monitoring, such as a D-net for sampling benthic macroinvertebrates, organisms without backbones that live on the bottom of streams that are visible to the naked eye, and a backpack electrofishing unit that is used to send electricity into the water to momentarily stun the fish. This allows the ecologist to easily collect fish from various habitats.
In addition, Wynne discussed how storm drains lead directly to the nearest waterway, not to wastewater treatment plants, and simple things that everyone can do to keep our streams healthy for generations to come.
Wynne helped write the science curriculum for fifth grade, which was implemented last year. She is currently working with FCPS on the ninth grade curriculum. High school students participate in Wynne's award-winning Stream Crime Investigation lab.
 
The speaking event at Rose Hill ES is one of many ways in which subject matter experts from the Department of Public Works and Environmental Services partner with Fairfax County Public Schools to offer experiential learning opportunities to students.
View videos of Wynne's presentation.